This Mom Posted Raw Post-Mastectomy Photos to Prove a Point About Breast Cancer Awareness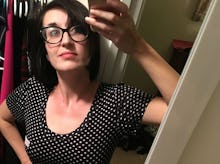 Back in October 2013, Tumblr user and breast cancer survivor Jenn Alter was fed up with the media fervor surrounding Breast Cancer Awareness Month. So she posted two graphic images of what her body looked like following her breast cancer treatment. "Here's your fucking breast cancer awareness," she wrote in the caption. (Warning: The photos are a little jarring.)
Two years later, the post is going viral after Alter reposted it last week. This time, she included a detailed explanation of what went into her decision to share the photos.
"This was during my 35 day radiation treatment back in 2013," she wrote. (Mic reached out to Alter and will update when we hear back.)
"Breast cancer isn't sexy. It's not about saving the boobies. It's not about no bra day, which is really just an excuse for women to post sexy pics of their nipples pressing through their clothes. It's scars, nausea, pain, bald heads, burnt skin, and broken hearts.
"If this doesn't make you 'aware' then I don't know what will. 
"Does it make you uncomfortable? It should."
Alter's post seems to be a direct response to Breast Cancer Awareness Month campaigns like No Bra Day, which have been criticized for sexualizing women's bodies as a way of encouraging people to donate to breast cancer research. Other "sexy breast cancer" campaigns, such as 2012's Save the Ta-Tas, have been called out for focusing on "saving" breasts at the expense of breast cancer survivors, thus lending an inappropriately sexual undertone to a serious health condition.
"Today's fetishizing of breasts comes at the expense of the bodies, hearts and minds attached to them," Peggy Orenstein wrote for the New York Times back in 2010. "Rather than being playful, which is what these campaigns are after, sexy cancer suppresses discussion of real cancer, rendering its sufferers — the ones whom all this is supposed to be for — invisible. It also reinforces the idea that breasts are the fundamental, defining aspect of femininity."
By sharing her brutally honest story, complete with her unapologetically graphic photos, Alter hopes to combat this trend of breast cancer sexualization and remind everyone that behind all the braless selfies and pink ribbons and catchy campaign slogans are real women fighting for their lives.
Judging by her recent Tumblr posts, her work has not gone unnoticed. "I continue to be amazed at the kindness, support, and love I have received this last week," she wrote to her followers on Sunday.
"Just wow. It's amazing."
H/T Daily Mail