FBI Stepping In to Investigate Police Killing of Black Church Musician in Florida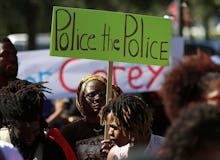 The FBI has joined the investigation into how Corey Jones ended up dead alongside a Florida highway last weekend, according to multiple reports. Time reports federal investigators are partnering with the Palm Beach County Sheriff's Office to unravel the circumstances leading to the black 31-year-old's death.
Jones, a public housing inspector and part-time drummer, was shot and killed the morning of Oct. 18 by Palm Beach Gardens Police Officer Nouman Raja, 38, who was in plain clothes and driving an unmarked van at the time, according to the Miami Herald. Jones had reportedly pulled over to the side of Interstate 95 when his tan Hyundai Santa Fe broke down. The Washington Post reports he was armed with a handgun, for which he had a concealed-carry permit.
The FBI is getting involved to add an element of impartiality to what is becoming an increasingly complex case, according to a statement obtained by the Palm Beach Post. 
Palm Beach Gardens is an affluent, mostly white community about 80 miles north of Miami. Raja, who became a police officer in 2008, had been investigating a burglary earlier that night when he saw what he claims he thought was an abandoned vehicle on the roadside.
As he pulled over and approached the car, he was "suddenly confronted with an armed subject," the Miami Herald reports. The officer fired six shots. Three hit Jones, killing him. Jones was between 80 and 100 feet away from his car when he died and had not fired his weapon, according the Washington Post.
The case is complicated by questions of legality as it pertains to firearm possession in Florida, most widely known through the state's notorious "Stand Your Ground" law. 
Benjamin Crump, an attorney representing Jones' family, went so far as to tell the Washington Post that they believe "Corey went to his grave not knowing if this was a real cop."
"[Officer Raja] rode up on [Jones] in an unmarked white van with tinted windows," Crump said, the Washington Post reported. "He doesn't know if he's about to be mugged, if he's about to be robbed, if he's about to be killed." According to Crump, Jones had a gun for protection because he often drove around with thousands of dollars worth of musical equipment in his car.
The family claims Raja never showed Jones his badge.