'Spectre' Released in UK and Snapchat Has a Behind-the-Scenes Look at James Bond Film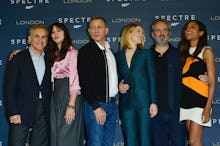 The latest film in the James Bond series, Spectre, was released in the United Kingdom on Monday (fans in the United States have to wait until Nov. 6). To coincide with the film's U.K. release, Snapchat launched a Discovery channel late Sunday to provide users a behind-the-scenes look at the film, including still photos and messages from the cast. 
The channel, available for 24 hours only, launched at midnight on Sunday in the U.S. and is the first time Snapchat has ever hosted a sponsored channel dedicated to a film, Deadline reports. "This is a fun way for current and future James Bond fans to experience Spectre," Dwight Caines, president of theatrical marketing for Sony Pictures Entertainment, said in a statement. "For one day only, Snapchat will be the one-stop shop for Spectre content, including photos and behind-the-scenes looks at the making of this incredible movie."
The channel, available in 17 countries, features several minutes of exclusive content and video commentary from the cast and crew. Users can view some of the film's most striking scenes, including costume design for the vibrant "Day of the Dead" scene filmed in Mexico and a car chase in Rome between the sleek Aston Martin DB10 and Jaguar C-X75, both of which were designed for the film.
"We're huge James Bond fans and excited to give our community a sneak peek into the action," Nick Bell, head of content at Snapchat, said in a statement.
A segment of the Snapchat channel dedicated to the women of the film features director Sam Mendes discussing the decision behind casting lead actresses Monica Bellucci and Lea Seydoux, as well as Bellucci and Seydoux commenting on the experience themselves. Mendes says Seydoux's character, Madeleine Swann, had to be "soulful, feisty and complicated, so it couldn't be a total newcomer" and that Seydoux is "the whole package."
"James Bond is a part of cinema history, and I respect so much all the James Bond girls," Bellucci says in the Snapchat. 
The channel also features Sam Smith's music video for "Writing's on the Wall," a song written for the film. The song debuted in September at No. 1 on Billboard's top 140 trending songs. 
Spectre is expected to do big things at the U.K. box office. Skyfall, the last James Bond movie, became the U.K.'s highest-grossing film of all time after its 2012 release, the Telegraph reports. "I have huge expectations," Andrew Cripps of IMAX told the Telegraph. "It's a giant cultural event in the UK when a Bond film comes out."