Martin Shkreli Says Drug Price Hike Hasn't Hurt His Dating Game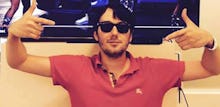 Martin Shkreli, the pharmaceutical CEO who's been called the "most hated man in America," drew further criticism on Saturday after claiming in a Reddit "Ask Me Anything" thread that a "very, very" long line awaited anyone looking to score a date with him. The hedge fund vet and Turing Pharmaceuticals CEO drew widespread criticism in September for hiking the price of Daraprim, a drug used to treat patients with AIDS, by more than 5,000%.
Shkreli was far from humble when fielding questions from the Reddit community. When Reddit user aknickersmirthful asked, "How can I get a date with you? :)," Shkreli wrote, "Get in a very, very long line."
For several hours on Saturday, Shkreli responded to hundreds of Redditors' inquires, comments, insults and questions. During that time, he both defended himself and admitted fault, spoke in broad strokes about the state of the pharmaceutical industry and generally deflected his critics. 
At one point, Reddit user Empigee posed the question, "How have you and your public relations team dealt with the recent controversy?" Shkreli responded, "Poorly."
In September, Shkreli raised the price of one Daraprim pill from $13.50 to $750. It's a drug thought to be life-saving to those with AIDS. On Oct. 16, Vermont Sen. Bernie Sanders rejected a $2,700 donation from Shkreli. 
Shkreli seemed unfazed by the constant flow of insults from redditors. He said the AMA was "going amazingly well" and thanked redditors for their "understanding" and "support."