Kanye West's Tan Yeezy Boost 350 and Yeezy 950 Have Official Adidas Release Dates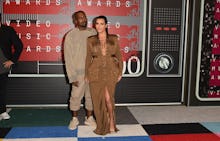 Jason Merritt/Getty Images
Yeezy season is here as Adidas revealed two new release dates for Kanye West's clothing line and sneakers via Twitter on Monday. West's high-top kicks, called the Yeezy Boost 950, will be available for purchase on Thursday, while the new Yeezy Boost 350 will be available Nov. 14.
Shortly after releasing the black colorway for the Yeezy Boost 350 in August, Kanye West stepped onto the red carpet of the 2015 MTV Video Music Awards in a tan pair of sneakers the rapper created with Adidas. FootwearNews originally reported Monday that a new pair of Adidas Yeezy Boosts could be arriving on store shelves as soon as November. 
Now it looks like fans and sneakerheads will soon be able to purchase the coveted tan sneakers, as the new colorway will be available in retail outlets next month, according to the footwear company. 
The 38-year-old artist, who has also launched two clothing lines with Adidas, Yeezy Season One and Two, has been teasing each of the colorways before they become available to the masses. So far, a black and grey edition of the Yeezy Boost 350 have become available for retail, and have been massively successful, selling out online and being sold on eBay for anywhere from $700 to $3,000.
In an interview with ShowStudio earlier this month, West explained why he created the Yeezy Boosts, which run for about $200, according to SneakerNews. "We sell shoes that people want to line up for because we put love in them, we put heart in them, we want to make Christmas presents, we want to make something that people want so bad that it hurts them if they can't have it," West told ShowStudio.