2015 Republican Debate Schedule: Dates, Latest Info and Who's Hosting Remaining Debates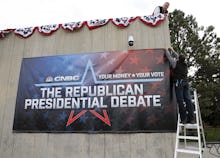 Wednesday marks the third Republican debate of the 2015-2016 presidential election season. CNBC will host this event, which will take place at the University of Colorado in Boulder. 
Following Wednesday's debate, the Republican candidates will gather for eight more debates in the lead up to the election as they vie to win voters' favor. Here's the remaining Republican debate schedule for 2015 and 2016:
The Republican debate dates are:
1. Tuesday, Nov. 10, hosted by Fox in Milwaukee, Wisconsin
2. Tuesday, Dec. 15, hosted CNN in Las Vegas, Nevada
3. An unscheduled date in January, hosted by Fox in Iowa
4. Saturday, Feb. 6, hosted by ABC in Manchester, New Hampshire
5. Saturday, Feb. 13, hosted by CBS in Greenville, South Carolina
6. Friday, Feb. 26, hosted by NBC in Houston, Texas
7. An unscheduled date in March, hosted by Fox
8. Thursday, March 10, hosted by CNN in Florida
The next debate: Wednesday's debate will be divided into two debates, the first of which begins at 6 p.m. Eastern and features Republican candidates former Pennsylvania Sen. Rick Santorum, Louisiana Gov. Bobby Jindal, former New York Gov. George Pataki and South Carolina Sen. Lindsey Graham.
The headlining debate will begin at 8 p.m. Eastern and will feature the party's top-polling candidates: real estate mogul Donald Trump, retired neurosurgeon Ben Carson, Florida Sen. Marco Rubio, former Florida Gov. Jeb Bush, former Hewlett-Packard CEO Carly Fiorina, Texas Sen. Ted Cruz, former Arkansas Gov. Mike Huckabee, New Jersey Gov. Chris Christie, Ohio Gov. John Kasich and Kentucky Sen. Rand Paul.
The debate on Wednesday will have a hard stop after two hours' time following a strongly-worded letter Trump and Carson penned to CNBC in mid-October, in which the candidates demanded they be allotted time for opening and closing remarks and that the debate not surpass a running time of two hours. Facing the withdrawal of the Republican party's two top-polling candidates, it didn't take long before CNBC agreed.