Macklemore Chain Photo: Here's the Bling That Singer Says Took 8 Years to Make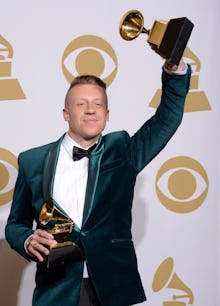 Here's one signature piece American rapper Macklemore, born Ben Haggerty, absolutely did not pick up at a thrift shop: a giant, gold chain necklace with a diamond-studded, pear-shaped medallion. The necklace was a gift from jewelry design company Tresor Paris and may have taken as long as eight years to make, though the impetus behind such an elaborate gift was unclear, Complex reports. 
On Sunday, Macklemore shared a photo of the gift via Instagram. The post has since garnered more than 72.6 thousand likes and more than 12,000 comments.
"Shout out to @tresorparis for turning my 6th favorite fruit into a pendant," the rapper captioned the shot. The necklace boasts 233 precious stones, among them emeralds, diamonds and crystals, according to the rapper. 
"Took 8 years to make it, maybe," he added. "This is to remind me that if I stay healthy and eat pears, I will win. And to motivate the people I love around me to put down the fucking fish and pick up a pear. Or if you eat fish, make sure you have a pear with that lil dead funky motherfucker from the sea."
In August, the rapper released a new track featuring Ed Sheeran called "Growing Up," which the musician first announced via Twitter.