Adele "Hello" Director on Why He Chose to Feature a Flip Phone in New Music Video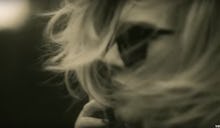 Adele may have come back into the spotlight in a major way with the unexpected release of "Hello" on Friday, but the props she used in the single's music video are far from new. One prop in particular, a flip phone, caught the Internet's attention in a major way, largely because it looked completely outdated in the smartphone era. 
The video, the artist's first full music video in four years that immediately became a viral sensation, features the 27-year-old British singer and songwriter using what many young people might consider a near-ancient flip phone while trying to reconnect with an ex-lover. The video's Canadian director Xavier Dolan said the flip phone was completely intentional in an interview with People, an update of which was published Monday.
"It makes me uncomfortable filming iPhones because I feel like I'm shooting an iPhone commercial," Dolan told People. "They're elements that you identify to our reality so much that – whether it's a short film, a film, a music video – they just hurt the piece's sensibility and reality, and it's not as romantic."
In the music video for "Hello," Adele ventures to an abandoned home, where she reminisces about a former relationship with an ex whom she tries to call numerous times without any luck. At one point, the artist can be heard saying, "I just got here and I think I'm losing signal already. Can you hear me now? Hello?" As Adele recounts her former fling, she becomes completely entrenched in her memories of the relationship, escaping her reality entirely. 
"Those things: iPhones, laptops, all those elements, to me, they bring me back to reality. That's not what you want," Dolan told People. "You want to get out of your own life; you want to enter someone else's; you want to travel somewhere; you want to be told a story."
Although Adele may not have had the best service on her flip phone throughout "Hello," the song was certainly heard around the world. The song was No. 1 in over 85 countries following its release on Friday. Currently, the music video has over 74 million views on YouTube. 
h/t People