Grimes Releases Music Video for "Flesh Without Blood" From Upcoming 'Art Angels' Album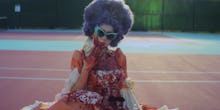 Canadian electronic artist Grimes dropped on Monday a double-feature music video that includes two songs, her latest singles "Flesh Without Blood" and a slower, more brooding track, "Life in the Vivid Dream," — and it's both angelic and unholy at the same time. The two singles are a sneak peek at her upcoming, long-awaited album Art Angels, set for a Nov. 6 release, preceded by her 2012 LP Visions, which the transcendent artist reportedly locked herself in her dark bedroom to record, according to the Guardian.
The self-directed video contrasts between white, angelic visuals and dark, twisted blood-spewing. Whether Grimes is donning angel wings in white sheets or a bright tudor gown drenched in blood, the feel throughout the video is somehow consistently playful and fun, but in an eerie way. 
The upcoming album was penned and produced primarily by Grimes at her home in Los Angeles and includes a collaboration with the Electric Lady Janelle Monáe and Taiwanese rapper Aristophanes, Grimes' record label, 4AD, reported. 4AD reported the album is Grimes' "most ambitious album yet," laden with sounds of a piano, guitar and violin, a nod to her' evolving artistry. Art Angels is available to pre-order through iTunes, Amazon and Google Play.  
Grimes kicked off her "Rhinestone Cowgirls" tour Saturday at Growlers Beach Goth Party Festival in Santa Ana, California, and will wrap up Nov. 25 in Chicago, according to 4AD. 
Correction: Oct. 27, 2015