The Best Beauty Product You Need Is a Little Bizarre — But It Costs Less Than $5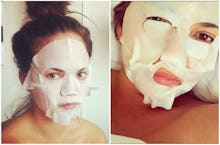 What if we told you the latest beauty craze made you look like a serial killer? What if we told you it made you look uber-creepy while also being Instagram-friendly? What if we told you Chrissy Teigen is already a fan? Oh, and that you can try it out for less than $5? 
Curious now?
Thought so. 
It's all about the face masks. Packaged in flat packets with a range of different ingredients and prices, face masks (sometimes referred to as "sheet masks") have taken over. Popularized in Korea, as many beauty trends tend to be these days, the masks offer wearers the unique opportunity to pamper their skin while looking like Michael Myers from Halloween.
The trend made its way to the United States from Korea over a year ago, with popular Korean brand Tonymoly, which translates to "nice and trendy," popping up in Sephora last fall to major fanfare. Countless beauty insiders have sung the masks' praises, and there have been entire blogs devoted to their greatness. 
Over a year later, and the masks are everywhere (even on the Today show). The most accessible and cheap masks currently on the growing market are from Tonymoly, currently stocked at Urban Outfitters and Sephora for less than $5. Now Sephora even makes its own, selling them at $6 a pop. More expensive varieties (the ones Chrissy Teigen goes for) include SK-II ($17), Dr. Jart+ ($7.50), Shiseido ($17.50 for three), Julique (a whopping $54) and many more.
Like Tonymoly, Sephora's masks come in varieties like rose, pearl, honey, green tea and lemon. Each makes its own skincare promises, from brightening and calming to soothing to tightening. 
So how do they work? You take the thin, product-drenched, fibrous sheet out of the package, lay it on your damp, recently cleansed face and leave it there for 30 minutes or so. Sit back and relax. Watch an episode of Bob's Burgers as the chemicals seep into your skin and perform their dutes.
When you peel the mask off (don't worry, it doesn't hurt), you should feel refreshed. If it's a little sticky, feel free to wipe on some lotion. It's that simple. 
Why are they so popular on Instagram? Search for "facemask" on Instagram and you're shown more than 500,000 results, varying from sheet masks to clay masks and so on. The idea that this self-care trend has become Instagram-famous shouldn't really be surprising, really. After all, what these masks offer, firstly, is a ridiculous look.
Will you ever see a Kardashian take a pic with one of these things on? Probably not. But lots of other celebs have, and they're proud enough to take selfies of them. 
With the gawk-at-me vibe, the masks are a public display of self care. Our skin is just as much a part of beauty as great eyebrows or perfectly lined lips; taking a picture to show off your "process" makes sense, an "I'm gonna look gorgeous when this is done" moment masquerading as a "Look at me, look how ridiculous I look!" moment. 
It's a humblebrag about how trendy and conscientious we are about our skin, while simultaneously doing some real good for it.
The masks are also fun. Tonymoly capitalizes on cute with black masks that cover the eyes, making the wearer look like a panda, and other ones that are playfully animal- or food-themed. The brand SNP has produced a line of face masks with printed images so wearers can look like a tiger or even a dragon during their at-home spa ritual. 
One part terrifying and the other part "look at me on Instagram," the animal masks have started to make their mark on the social site, with more than 4,000 posts popping up for the lengthy "#snpanimalmask."
Oh, and they really seem to work. All that said, it's pretty critical to point out that people are genuinely digging how effective masks are. Take one look at some Sephora reviews and you get the gist. On a review of Tonymoly's lemon mask (which is sold out at time of writing), one user says: "I just laid down and sat there for a few minutes. It says 20 to 30 minutes but I'm restless and anxious and couldn't keep it on for more than 17 minutes or so, however, my skin felt ridiculously refreshed. It was brighter. It was softer. It was... nice."
Another for Tonymoly's tea tree mask writes, "I wore this mask for 20 min, took it off and the bumps were all smoothed out and my face seriously felt like a baby's tush!"
Instagrammability is an appeal, but so is the all-important idea of self-love and pampering that really seems to work. These inexpensive spa moments are for you and you only. And for less than $5.
Chris Pratt wouldn't lead us astray, would he?