Spring Valley Officer Placed on Administrative Leave After Brutal Assault Caught on Cam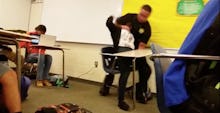 A school resource officer in Richland County, South Carolina, has been placed on administrative leave after video emerged of him entering a classroom at Spring Valley High School and violently arresting a student seen sitting peacefully in her chair. 
Deputy Ben Fields was disciplined after the video went viral on social media Monday evening, WLTX reports. The student reportedly refused a number of requests to leave the classroom and had been disruptive.
A 15-second clip of the encounter posted to Twitter by New York Daily News reporter Shaun King had generated more than 45,000 retweets as of Tuesday morning.
"It's very disturbing what happened today," Richland County Sheriff Leon Lott told WLTX Monday.  "It's something I have to deal with and that's what we're going to be doing." 
The television station also reported that Lott has requested federal investigations by both the South Carolina branch of the FBI and the Justice Department.
It's also not the first time there have been complaints about Fields. In 2013, Ashton Reese, a former Spring Valley high school student, filed suit against him, accusing Fields of civil rights violations. Fields "unfairly and recklessly targets African-American students with allegations of gang membership and criminal gang activity," the lawsuit reads, according to the New York Times. 
By Tuesday morning, it was evident that the Internet was very much in agreement with Lott's sentiments. 
In addition to crowdsourcing the story to find the latest information about the video and the situation, Twitter users using the hashtag #AssaultAtSpringValleyHigh vented their own frustrations with what they said was the latest example of police overreach.
Watch the full video here.