A Pic of "Homeless" Richard Gere Went Viral — Now He Plans to Help the Homeless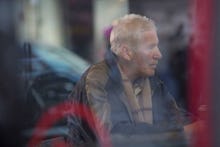 When an image of Richard Gere, portraying a homeless man for his upcoming film Time Out of Mind, went viral on an unofficial Gere Facebook fan page, the overwhelming response struck a chord with the actor and now he wants to use the momentum to help.
The Oct. 8 post garnered more than 1.5 million likes and over 600,000 shares, prompting Gere, who does not have his own page, to use the public page of his Time Out of Mind co-star Jena Malone to communicate with fans on how best to serve the homeless community. 
Malone announced Monday she would be handing Gere the reigns to her account to discuss the subject matter of "the most important film I have ever made."
Gere later announced that he and the film's director, Oren Moverman, would be hosting a live conversation on Malone's page at 11 a.m. ET Wednesday to discuss ways to help.
"I'd like to find out what that is and what we can do together to make something good and meaningful happen for our homeless brothers and sisters," he wrote. 
In April, Gere, who plays a homeless man attempting to reconnect with his estranged daughter, was so convincing in his portrayal that a tourist gave him her leftover pizza when she found him digging through trash outside New York City's Grand Central Station.
Part of a much bigger problem: Homelessness continues to plague hundreds of thousands of Americans. According to a 2014 report by the U.S. Department of Housing and Urban Development, there were nearly 600,000 homeless people in America, with roughly a third of them "found in unsheltered locations."
The homeless population comprises a range of demographics, affecting people with multifarious backgrounds. According the Department of Education, the number of homeless children alone has increased by 100% since the 2006-2007 academic year.
In August, debate over how to deal with the country's growing homeless population prompted the federal government to suggest that certain state laws dealing with the homeless might be unconstitutional.
"The Department of Justice has filed a statement of interest ... saying that preventing the homeless from sleeping outside should be considered a violation of Eighth Amendment protections, which forbids cruel and unusual punishment," Mic's Zeeshan Aleem wrote.
Conversely, nonprofits such as Common Ground, argued that their organization's approach of providing stable housing and support to the homeless offers a more sustainable solution.
"That's when you're going to get people that are going to be able to move forward with their lives," Brenda Rosen, Common Ground president and CEO, told Mic.
With the existing system proving inadequate, Gere's dialogue on finding humane solutions for the homelessness problem could have potential for a lasting impact.