Fetty Wap, French Montana Mixtape: Streaming, Download Options and Lyrics from 'Coke Zoo'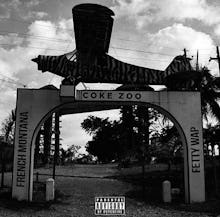 Fetty Wap and French Montana dropped their joint mixtape Coke Zoo at midnight Monday, a project the two recorded while touring together this summer. The collaboration features fellow rappers Puff Daddy, Monty and Chris Brown, as well as a number of notable producers in the hip-hop music industry, including Mekanics, Peoples and NAK47.
Coke Zoo is streaming and can be downloaded for free exclusively via DatPiff, a streaming online music library. The rappers also released a music video Monday for "Freaky," featuring Monty, a track off the pair's new mixtape. 
The pair's joint project includes several club bangers, with an emphasis in most of the songs' lyrics on partying, women and drugs. In "Freaky," Fetty Wap and Montana don't hold anything back:
"Go and bust it open with your freaky ass/ On the back blocks, where the swirly at/ Me and Puff ridin' where they shot Biggie at/ smoking on the weed, popping pills/ from the corner, making mills/ Getting top in the foreign, getting dome like New Orleans."
Fetty Wap's debut, self-titled album was released last month, while French Montana's highly anticipated Mac and Cheese: The Album's release date for Friday. Both rappers shared their latest release with fans over social media once Coke Zoo became available for streaming at the stroke of midnight: