Missy Elliott to Debut "WTF (Where They From)" During NBA Doubleheader — Here's When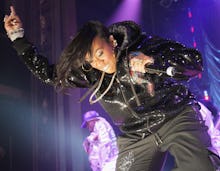 American rap queen Missy Elliott has teamed up with "Happy" rapper Pharrell Williams to release a track that will premiere at halftime during an NBA doubleheader on Wednesday. The rapper teased snippets of her new single, titled "WTF (Where They From), via ESPN during Monday Night Football, and will debut the track at the pre-game show Wednesday, which begins at 7 p.m. Eastern. The song will be available for download Nov. 13. 
Ahead of the official debut, Elliott fans were quick to capture portions of the track on ESPN Monday night and share the footage on social media. For now, only clips of Elliott's new track are available. 
It's been a decade since the 44-year-old musician released The Cookbook, her sixth studio album, and 18 years since the famed rapper released her debut studio record, Supa Dupa Fly. In her long and varied career as a singer, songwriter, rapper and producer, the Portsmouth, Virginia, native has racked up five Grammy Awards. 
"WTF (Where They From)" will be released on Nov. 13, and fans can expect a music video to complement the single. According to Rap-Up, Elliot was spotted in downtown Los Angeles working on what appears to be a music video and sporting what looks like a disco ball-themed tracksuit. 
Elliott is also rumored to be in the studio with American producer and musician Timbaland, hard at work on her new album. However, there's no official release date on an untitled forthcoming LP.