There's a Secret Twitter Network Where Academics Score Expensive Papers for Free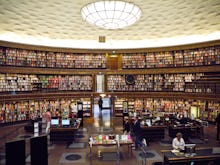 The research world has its own big bad corporate giants: the academic journalists who put the sum total of the world's greatest research behind gates and charge exorbitant fees for access. Now, the bookworms are striking back against their academic overlords.
Academics are using a Twitter hashtag called #icanhazpdf — a play on the classic meme "I Can Haz Cheezburger" — to covertly ask for free copies of research papers from other academics who have access to the originals.
The hashtag works like this: Someone who wants a particular research paper tweets a link to the paper (or the paper's title), his or her email address and the hashtag. Once someone with access to the research sends it along, the original tweeter deletes the request, leaving little or no evidence that there was ever an exchange.
Academic research has been a pivotal battlefront in the activist war for open access online.
Andrea Kuszewski, the cognitive scientist who started #icanhazpdf, told Quartz that the hashtag is an act of "civil disobedience" and that "the biggest rule is that you don't thank people," because academics who are sharing these articles are essentially breaking the law by pirating copyrighted materials.
The electronic frontline: Academic research has been a pivotal battlefront in the activist war for open access online. Journals don't pay for the work they publish or even for the review process, but take in profits from selling that work to researchers who need that material. Individual research papers can routinely cost over $30, while yearly subscriptions to individual research journals cost hundreds if not thousands of dollars.
Activist and online rights pioneer Aaron Swartz, who wrote the Guerilla Open Access Manifesto, helped start Reddit, helped beat back the infamous Stop Online Piracy Act (among many other accomplishments) and fought Public Access to Court Electronic Records and other public records databases.
When Swartz broke into the servers at the Massachusetts Institute of Technology and stole millions of academic research papers, prosecutors set out to make an example of him. Faced with dozens of years in prison for digitally copying papers, Swartz took his own life in his Brooklyn apartment.
Though the hashtag carries on the tradition of academic piracy as civil disobedience, #icanhaspdf is a small dent in the hull of an industry man-o-war. The Electronic Frontier Foundation responded to the hashtag by reminding openness advocates that "a network of friends with institutional connections" isn't going to end the reign of the academic journals.
"Even among advocates for open access, it's sometimes easy to forget what's really at stake," the EFF wrote. "At its heart, open access isn't an abstract, academic debate. It's a human rights issue. In [the words of malaria researcher Bart Knols], 'Can we justify withholding information from those who need it most?'"