Chance the Rapper Drops New Single "Angels." Here Are the Lyrics and Streaming Info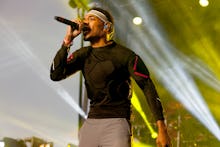 After building up heavy anticipation among his loyal fanbase around the release of his latest single, Chicago-based artist Chance the Rapper dropped his track "Angels" — a feel-good rap about being blessed — on Monday's episode of The Late Show with Stephen Colbert. The energetic performance featured the show's host Stephen Colbert donning a halo and the lush, distinctive trumpeting of Chance's band, the Social Experiment. 
Chance the Rapper, whose real name is Chancelor Bennett, tweeted on Monday that he would premiere a new single on Monday night's episode of to wrap up his time in New York City — and he delivered. After teasing his fans on twitter and Instagram, Chance debuted the song in a vibrant setting backlit by the "Angels" cover art, city skyline and back up dancers. 
The song features rapper Saba, who joined him on stage for the performance. 
The song is available on Spotify, the first time Chance the Rapper has streamed one of his songs on the music service. 
"Angels" is also available to download for free on iTunes, which the rapper brags about in the first verse of the track with a slick rhyme: "This what it sound like when God split an atom with me/ I even have Steve [Jobs] giving out apples [music] for free." The song's full lyrics are available on Genius.