The 'Gilmore Girls' Revival on Netflix Will Be Set Around the Four Seasons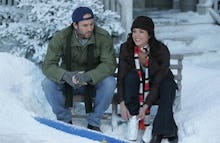 Brace yourself, Stars Hollow denizens: Winter is coming. So are spring, summer and fall, for that matter.
The upcoming revival run of Gilmore Girls, hitting Netflix after over eight years off the air, will consist of four 90-minute episodes. According to TV Line, each of those episodes will be based in a season of the year. So one will take place in winter, one in spring and so on.
Setting these installments in different seasons is appropriate for Gilmore Girls. For seven seasons, the former WB show filled its world with seasonal festivals and holiday celebrations in the fictional town of Stars Hollow. It's understandable to expect that some of these occasions will find their way into the new series.
Take the season three premiere, "Those Lazy-Hazy-Crazy Days." In the episode, town selectman Taylor Doose (Michael Winters) fills the gap between holidays by coming up with the first-ever End of Summer Madness Festival. Throughout the scene, a barbershop chorus repeatedly sings the chorus of Nat King Cole's "Those Lazy-Hazy-Crazy Days of Summer," even as Lorelai Gilmore (Lauren Graham) and her daughter Rory (Alexis Bledel) argue.
In season one's "Kiss and Tell," Rory and her friend Lane (Keiko Agena) have to dress up as pilgrims to work the Autumn Festival. It's not surprising autumn would be the first season to get a festival on the show: Much of Gilmore Girls has a fall-esque aesthetic. There's a lot of flannel, and Stars Hollow often feels painted in oranges and browns. BuzzFeed even called it "the most autumn show of all time."
Season seven's "Hay Bale Maze" helped spring make a late-series impact on the series, however. The annual Spring Fling festival that year featured an extensive and circuitous maze made of hay. In fact, Taylor got so obsessed with the idea of the hay bale maze that he gutted the entire budget just for that. 
As it turned out, the maze was a hit — and it reunited two estranged characters. Perhaps Taylor will have its way and it will return for the spring episode.
No season was more important to Lorelai — and to Gilmore Girls, for that matter — than winter. As established in season one's "Love and War and Snow" and revisited in season five's "Women of Questionable Morals," Lorelai has a special relationship with snow. She can sense when it's coming, and it always brings her good tidings. "It's the best time of the year," she says in season five.
In that episode, Lorelai and snow go through a rough patch when it routinely inconveniences her throughout the day. Yet at the end, her close confidante Luke (Scott Patterson) restores their relationship in the form of an ice rink.
Winter's stories tended to be the most evocative on Gilmore Girls. From the Gilmore family rallying around an ill patriarch to Stars Hollow coming together for a giant town dinner, there's something about winter that makes for memorable stories. Considering this, the winter episode will probably be either the first or last of the limited run.
No matter what the order, however, this is exciting news. The seasonal focus likely means the goal isn't to split the characters up (a la Arrested Development's fourth season). With an ensemble show like this, keeping everyone together is paramount. It's still early, but signs are good that Gilmore Girls' return will be in exactly the right spirit of the series itself.