Spratly Islands Photos: China's Man-Made Islands Continue to Rise Out of South China Sea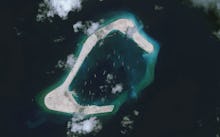 On Tuesday, a U.S. Navy ship came within 12 nautical miles of China's man-made islands in the Spratly archipelago, the country's hotly-disputed, artificial territory located in the western part of the South China Sea. Beijing promptly issued a response, with the Chinese Defense Ministry calling the move a "coercive action that seeks to militarize the South China Sea region," Reuters reports. 
The U.S. hasn't come this close to the artificial Spratly landmasses since 2012, according to Breaking Defense. International scrutiny has only increased in recent months as more images that depict China's island-building progress have been released and following an announcement from Beijing in June that the project was nearing completion. 
That month, Chinese leaders promised to halt all land-building missions in the South China Sea. However, photos captured as recently as Sept. 8 show significant progress has been made to a number of the man-mad islands, the Washington Post reported in September. Under international law, whichever country controls an island also controls 12 miles around the island and has the fishing and mineral rights to within a 200 mile radius.  
The disputed territory is home to a high-traffic global shipping route. More than $5 trillion worth of internationally-traded goods pass through the South China Sea each year, according to Reuters. China, Vietnam, Malaysia, Brunei, the Philippines and Taiwan are all vying to lay claim to parts of the international waters. 
China in particular would like to control to the shipping passages and perhaps profit through export taxes by building Chinese territory in the South China Sea.
The dispute is putting a lot of stress on Sino-American relations, which are already on rocky ground due to a U.S. government data breach in September that Chinese hackers may have been behind. 
On Tuesday, one unnamed U.S. defense official claimed the Navy Patrol in the Spratly archipelago lasted a few hours and included several of China's man-made islands, among them Mischief Reef. Yet according to Reuters, that same U.S. official claimed that world leaders can expect similar patrolling will continue in the coming weeks, it will not be unique to China but will instead include other nations that lay claim to territory in the South China Sea.
The leader of at least one of those countries, the Philippines, praised the U.S.' actions on Tuesday.
"The American passage through these contentious waters is meant precisely to say that there are norms as to what freedom-of-navigation entails and they intend to exercise [these] so there is no de facto changing of the reality on the ground," said President Benigno Aquino at a press conference, Newsweek reports. 
In May, CNN gained exclusive access to classified U.S. surveillance flights over China's man-made islands. Here's footage of a spy plane's mission over the South China Sea, during which the U.S. aircraft pilots receive a stern warning from the Chinese military. 
As a bonus, here's more footage captured by a U.S. spy jet and posted to YouTube on Oct. 8.