'Legally Blonde 3'? Reese Witherspoon, Luke Wilson and Mary Lynn Rajskub Say They're Game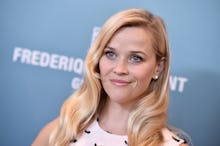 Actress Reese Witherspoon, who taught women to flaunt their endowments with the "bend and snap" as Elle Woods in the 2001 classic Legally Blonde, told Fashionably Late's Rachel Zoe in an interview on Monday that she thinks it's time for a Legally Blonde 3 — and her co-stars Luke Wilson and Mary Lynn Rajskub, who played Elle's husband and colleague in 2003's Legally Blonde 2: Red, White and Blonde, agree. 
In the interview with Zoe, Witherspoon said that the current focus on women in politics provides the perfect opportunity for a Legally Blonde film featuring a woman on Capitol Hill. "A lot of writers over the years have come up with different ideas for it," Witherspoon told Zoe. "I actually think it's kind of great right now because we're talking about women in politics and how important that is to get more women, and I think it'd be kind of a cool thing to have her be a Supreme Court justice or someone who runs for office, like president."
Witherspoon admitted that her desire alone wouldn't suffice to create a threequel, adding,"Call MGM!" The movies' production company hasn't commented on the possibility of another Legally Blonde film.
Wilson and Rajskub said they'd like to reunite the Legally Blonde crew for round three in an interview with the Late Late Show's James Corden on Monday. When Corden posed the question of a possible trilogy, Wilson said, "Would we put the band back together?" and Rajskub replied, "Let's do it."