The Inspiring Reason This Woman Is Walking 1,000 Miles Topless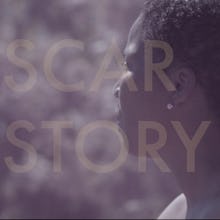 Last year, 49-year-old Paulette Leaphart was diagnosed with an aggressive form of breast cancer and needed an immediate double mastectomy. She was not, however, a candidate for reconstructive surgery and now bears scars across her chest. Her story isn't a typical, heartwarming breast cancer survival story, and that's exactly why she's on a mission to share her story — and her scars — with the world. 
The journey: Over the course of three months in the spring of 2016, filmmakers will follow Leaphart as she walks 1,000 miles from Biloxi, Mississippi, to Washington, D.C., topless. Even without cameras, Leaphart still planned to make the trek, finishing on her 50th birthday. In fact, the filmmakers met Leaphart "pretty serendipitously," they told Mic.
Producer Sasha Solodukhina was filming a different project in the Lower Ninth Ward in New Orleans when she met Leaphart, who shared her story. Solodukhina learned that a photo of Leaphart's scarred chest went viral on social media, cultivating a Facebook community of over 13,000 followers, many of whom were struck by the novelty of the picture and the media's corresponding failure to expose such images. 
The public reaction inspired Leaphart to walk, and later inspired Solodukhina, along with director Emily MacKenzie, to document the journey in a project called Scar Story.
The goal: "I don't want to give them a pretty story wrapped up in a pretty pink bow about breast cancer, because that's not what it is," Leaphart says in the documentary's trailer. "This is it. Across my chest."
The filmmakers are hardly interested in telling a cookie-cutter story either. Their goal is to "challenge the breast cancer conversation to move beyond 'pink' — raising issues of body positivity, race and gender, and 'all of us have scars,'" they told Mic.
The message joins a growing chorus of breast cancer awareness activists frustrated with mainstream depictions of the illness. For example, one 36-year-old survivor recently shared images of what her body actually looked like after undergoing 35 days of radiation treatments — burns and all — on Tumblr. Others have spoken out about the way overly gendered and even sexualized breast cancer awareness campaigns minimize the seriousness of the disease and can even detrimentally affect funding.
The intersection of race with breast cancer and awareness of the disease and access to treatment is another oft-overlooked element. Black women are less likely than white women to get breast cancer, yet a 2010 Centers for Disease Control and Prevention report revealed that the breast cancer death rate for women aged 45 to 64 was 60% higher for black women than white women, according to Black Women's Health Imperative. That many have also spoken out about racism in accessing and receiving adequate health care likely factors into this reality.
In addition to shedding light on these issues, Solodukhina and MacKenzie hope to create a significant social media following on Twitter and Facebook, so others can join Leaphart as she walks through communities across the country and to give visibility to their own stories. The plan is to get enough attention that when Leaphart ends her walk in Washington, D.C., the team can "motivate political attention around issues of women's health and cancer research," they said.
"We are interested in bringing to the surface a conversation about the different things we hide and the reasons we keep them hidden," they added.
It's a sentiment that has motivated Leaphart all along.
"All of us have scars," Leaphart says in the trailer. "If they're not physical scars, they're emotional scars. We're afraid to expose those scars because we're afraid of what people might say or how they'll judge us. I want to put an end to that."