Droid Turbo 2: Features, Specs, Release Date and Price for Verizon, Motorola Smartphone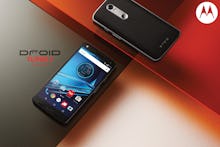 Motorola and Verizon unveiled their collaborative Droid Turbo 2 smartphone on Tuesday, a supposedly shatterproof device that's meant to last for two days without a charge, the Verge reports. Additionally, the companies unveiled Droid Maxx 2, an upgraded version of the Moto X that offers the same battery life as the Turbo 2 but not the shatterproof technology, according to a press release. Both phones will be available for purchase through Verizon on Thursday, according to the Verge. 
The Turbo 2 shines through: Turbo 2 drew attention for its "ShatterShield" technology that should make the phone drop-resistant, according to the press release. "At Motorola, we're all about trying to solve real consumer problems. One of the problems today is that phones are just too fragile," Motorola president Rick Osterloh told the Verge, adding that the "world-first innovation" took the company three years to create. 
Verizon hinted at the smartphone's shatterproof feature in a tweet on Friday, teasing that customers will soon "worry more about snowfalls than phone falls."
Battery life: Osterloh also confirmed that the battery on the Droid Turbo 2 should last 48 hours through "mixed usage," Engadget reports, and improved charging should give the phone 13 hours of power in 15 minutes, according to Motorola's press release.
Shatterproof technology: Two lenses, an aluminum core and a shock-absorbing screen protect the phone, according to Endadget, in what it called a "pretty robust package compared Motorola's earlier flagship." The Turbo 2 is also Droid's first customizable phone, per the Endadget report — the phone comes in a soft-grip finish, leather or nylon.
Camera: The phone's camera has a 20-megapixel lens and a 5-megapixel front-facing lens, CNET reports.
Price: The 32 gigabyte model will cost $26 per month and a 64 gigabyte version will be available for $30 per month on Thursday, according to Engadget. 
This comes after Motorola released its latest smart watch Moto 360 2.0 earlier this month that can stream music, track users' activity and even start a car. A sport version of the watch that includes GPS technology is expected later this year.