President Obama Confirms Playing Soccer Like a Girl Is "Badass"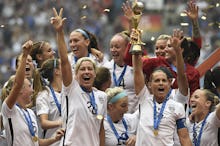 This summer, 25.4 million viewers tuned into the Women's World Cup final match to watch the United States team defeat their Japanese rivals. On Tuesday, President Barack Obama honored this feat by accurately summarizing it in a single word: badass. 
"This team taught all of America's children that playing like a girl means you're a badass," he said. "Playing like a girl means being the best. It means drawing the largest TV audience for a soccer match, men or women's, in American history. It means wearing our nation's crest on your jersey. It means taking yourself and your country to the top of the world."
Obama even managed to jokingly endorse midfielder Carli Lloyd — who was not only named most valuable player after scoring three goals in the final but was also given the title "president of the United States" on Wikipedia — for that job, according to ABC.
"I guarantee Carli knows more about being president than some of the folks running," Obama said in the speech.
Obama also posed for a selfie with the team, which was posted on player Megan Rapinoe's Instagram: 
Going for the gold: Jokes aside, Obama's comments are particularly meaningful considering the pay discrepancy the U.S. Women's Soccer team faced — specifically in terms of their prize money. FIFA, soccer's international governing body, awarded the U.S. Women's National Team a $2 million prize for their win, whereas the final 16 men's national teams who played in the 2014 World Cup took home about $10 million on average, Business Insider reported in June. 
His endorsement also helps combat similar forms of discrimination and sexism evident in the industry beyond soccer. A recent University of Southern California study found, for example, that Los Angeles' TV coverage of women's sports has remained stagnant over the past 25 years, and another study found that the number of women in sports journalism declined from 17% in 2013 to 10.2% just a year later 2014.
Hopefully this talented team's win and the president's full-fledged support alike will do much to show the nation — and especially female athletes themselves — that athletic talent knows no gender.
Watch Obama's speech below:
h/t ABC News