'Orange Is the New Black' Season 4 Release Date Info, Spoilers, Cast and More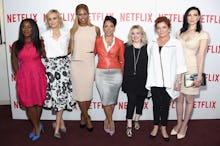 Netflix is planning a fourth season of its hit series Orange is the New Black, which could be released sometime this next summer, however the online streamer hasn't announced a definitive date for the season four premiere just yet. Though the next season isn't expected to hit the Internet anytime soon, fans of the comedy-drama and the press are already demanding details, including circulating rumored spoilers, cast info and more. 
According to the fan site Netflix Life, it may be reasonable to assume the show's fourth season will debut in June. The first-ever season of Orange is the New Black premiered on July 11, 2013, and season two of the show came nearly one year later, on June 6, 2014. The most recent season of the hit show premiered on June 12, which means a fourth installment could logically debut in June or July of next year, given the pattern. 
When the season eventually kicks off, the show's fourth season could welcome a few new faces to its cast, according to Deadline. Jolene Purdy, who stared in CBS' TV drama Under The Dome, has reportedly booked a recurring role in the fourth season of the show.
And according to TV series tracker When Will, recurring cast members could include American actor and comedian Mike Birbiglia, academy award-winning actress Mary Steenburgen and theater and film star Blair Brown. Yet, When Will also reports that the cast could loose a few staple cast members, among them Jason Biggs, who plays Larry Bloom, and Pablo Schreiber, known to the show's fans as Mendez.
No definite spoilers for the plot of season four have been confirmed, though based on season three's cliffhangers a number of questions remain, such as who will gain custody of Dayanara's baby, whether or not Bennett will return and if Piper and Alex's romance stays. 
As fans of the show await answers, here's a lightning round interview with the show's cast via Good Morning America, where the women of the series respond to question like "Who is the last to leave a party?" "Who is the first person on set?" "Who is the cast clown?" and "Who do you go to for advice?"
For the full interview and a behind-the-scenes look at the set of Orange is the New Black, here's Good Morning America's full feature: