Rihanna Designer Adam Selman's New Fashion Designs Feature Wearable Mobile Payment Pieces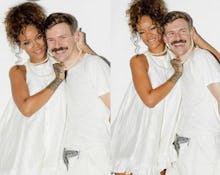 What does Rihanna, fashion and the future of wearable technology have in common? Adam Selman. The designer, who famously dressed the recording artist in a see-through Swarovski crystal-laced dress at the Council of Fashion Designers of America Awards in 2014, unveiled a new line of technologically advanced clothes and accessories that act like wearable credit cards during the Money 20/20 conference Monday night in Las Vegas.
"I was riding with friends in a cab earlier this summer, and we were actually saying how the next thing to go would be the swipe," Selman told the New York Times. "Then, the next day, MasterCard called about this. They gave me total leeway; the idea was less about a specific product than about changing how we think about paying, which is what designers need to do: push boundaries, think about what's next." 
Selman's designs are just as short, chic and daring as previous seasons from his self-titled clothing line. However, the new pieces come with a futuristic catch: each one includes a built-in bluetooth chip capable of syncing up with a credit card. The "wearables" allow those donning the clothes to simply flash a glamorous bracelet, retro sunglasses or even their trendy new dress to pay for purchases. 
The New York Times' Vanessa Friedman explored Selman's new line Monday, noting the designer's innovative collaboration with MasterCard looks far from futuristic, at least on its surface. "In fact, they look pretty retro," Friedman wrote following the 20/20 event, an annual trade show which centers around finance and focuses on the mobile, retail and marketing industries. "The glasses are modified cat's eye styles with thick, Devo-like rims (the chip is in the arm); the dress, a mini 1970s empire-waisted tweed brocade with a ruffled hem and flowing bow at the bust (chip in bow); the gloves, a taxi-color checkerboard print with heavily ruffled wrists (chip on back of hand)."
According to CNBC, wearable technology is fast becoming the next big thing and will likely become more widely available on the market in the second half of 2016. Wearable tech sales, including the Apple Watch, could even surpass 305 million units in 2020, CNBC reports. For designers like Selman, the ongoing collision of tech and fashion provides an opportunity to create innovative collections that bring the two, seemingly disparate worlds together.