Adele BBC Special: Taping and Ticket Info for 'Adele Live in London'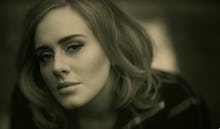 After soul singer Adele broke the Internet last week with the release of "Hello," the artist's first single in three years off her upcoming album 25, British network the BBC announced Tuesday that it's filming an hour-long Adele concert and interview special. The event, "Adele at the BBC," will be released internationally as Adele Live in London on Nov. 20.
U.K. television host Graham Norton will host the event, to be recorded on Monday, and interview Adele on her life and career while she performs her classic hits and tracks from 25, according to BBC Music. "I can't wait for the show," Adele told the Hollywood Reporter. "The BBC has been wonderful to me over the years, and Graham and I get on great, so it's going to be a laugh."
"This opportunity to spend an hour with Adele, her music and her stories is a truly rare treat," Norton told the Hollywood Reporter. "If I wasn't hosting this special, I'd be at at home watching it!"
Norton also expressed excitement on Twitter:
Tickets to the live show are available through a lottery and can be requested here until midnight GMT on Wednesday. 
The BBC will distribute the full 60-minute cut of the event and a 45-minute edit excluding the interview portion to international networks to air on Nov. 20, according to the Hollywood Reporter.
Adele's latest single, "Hello," sounds like it's about an ex-lover (which would be congruent with the theme of her last album, 21), but it's actually about someone more important — herself. In an announcement on Twitter of her upcoming album and its meaning, Adele dubbed 25 the "make-up" album and 21 the "break-up" album. "25 is about getting to know who I've become without realizing," she wrote.
Watch the music video for "Hello" (for the thousandth time):