Skrillex and Diplo's "To Ü" New Music Video Features Gay, Lesbian and Trans Lovers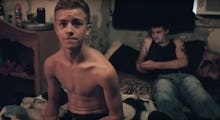 Skrillex and Diplo released a music video on Sunday for "To Ü," from their February joint album Jack Ü, shining a spotlight on young love within the LGBTQ community. The video, which shows adolescents from different walks of life experiencing the rush and excitement of young romance, was cast by the California DJs themselves through an open casting call they posted to Twitter in August. 
"I know it's supposed to just be a music video, and I know it's about the fleeting nature of young love or something like that, and I know that you're not supposed to wax poetic about things like this," the video's director, AG Rojas, wrote on the Jack Ü website. "But I don't subscribe to those things because this is what I have given my life to, and I hope you see what I see too."
Back in August, Diplo shared with fans on social media he was in search of real-life couples to star in his upcoming music video. The 36-year-old producer and DJ tweeted, "Looking for young couples in Detroit for Jack Ü video next week. Gay/straight/trans/whatever you're into, get at us: jackucasting@gmail.com." 
"To Ü" also features English electronic duo AlunaGeorge, with powerhouse vocals from the group's female lead, Aluna Francis. "When I saw the beauty of people just being people in what AG [Rojas] was planning, I got so excited, that's what I needed, to tell the story of 'To Ü.'" Francis wrote on the album's official site. "I don't really care if anyone else feels it, but I know they will if their heart beats still."
As the video flashes between same-sex and opposite-sex couples, the lovers are seen caressing, cuddling, hooking up and roaming their city streets. Although all of the pairs combined cover a range of ethnicities, gender identities and sexualities, their emotional and candid love affairs all appear to have an equal amount of lust and vulnerability.
Check out the video for Diplo and Skrillex's "To Ü," featuring AlunaGeorge: