Spacewalk Live Stream Video: Watch NASA Astronaut Scott Kelly Leave the ISS for First Time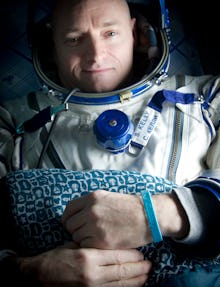 On Wednesday, American astronaut Scott Kelly, possibly the Internet's favorite space man, will take the first spacewalk of his career, and NASA TV will be there every step of the way with live coverage of the event. The  live stream is scheduled to begin at 6:30 a.m. Eastern Wednesday and last six and a half hours. A second spacewalk will follow on Friday, Nov. 6, per NASA.
Wednesday's spacewalk will also be a first for NASA flight engineer Kjell Lindgren, who is on duty alongside Kelly at the International Space Station, or ISS, as it orbits the earth. Kelly and Kjell's time outside the spacecraft will mark the U.S.' 32nd spacewalk on record, according to the space agency. During their time outside the spaceship Kelly and Kjell will work on station upgrades and maintenance that includes the installation of a new cover on a particle physics detector. 
On Monday, Kelly posted a photo to Twitter in preparation of the excursion:
For a man who's been nowhere near Earth's surface for 213 days, Kelly has broken a lot of ground in recent weeks. On Oct. 15, the space commander set the record for the most cumulative time spent in space for any U.S. astronaut, a record that includes the time Kelly spent in space on previous stints.
And last week, U.S. President Barack Obama called the space station and talked to Kelly directly, in advance of an astronomy night the White House held for students from around the country.  
"I'm feeling great," Kelly told Obama during their conversation, according to International Business Times. "I feel like I've been here for a long time and obviously it feels like I've got a long way ahead but it shouldn't be a problem getting to the end with enough energy and enthusiasm to complete the job."
Obama congratulated Kelly on his record-setting achievements, praised him for how those efforts are helping to inspire future generations to prioritize science and space exploration and spoke briefly about America's interstellar long game.
"As you know I've tasked NASA to put us on a journey to Mars and you're part of that process of helping us reach this goal," Obama told Kelly. "Really, really proud of everything that's going on."
Kelly's mission is to complete one full year in space. The astronaut has been quite active on social media during his journey so far, and has amassed hundred of thousands of followers on Twitter and Instagram. Often, Kelly's posts offer a valuable perspective on some of the world's top stories — for example, these aerial shots of Hurricane Patricia as it approached Mexico late last week:
And more often than not, Kelly's posts to Twitter and Instagram convey the astronaut's sense of humor:
As a bonus for any space obsessives, Kelly curated a playlist to soundtrack his year in space, and Spotify users are free to follow along.
"When living in a place isolated from the rest of the world like here aboard the International Space Station, [music] becomes more significant," Kelly wrote via Spotify on Oct. 19. "I imagine music will be equally as important to future space travelers as we go further beyond our global sphere."
"Here we listen to music during the workday and often have something playing in different modules throughout the space station," he added. "Some weekend mornings, I float to the cupola with my coffee and listen as I reflect on this journey, looking down at our beautiful world on which most of us live."
Here's just one of Kelly's picks, featuring English singer-songwriterJasmine Thompson covering "Stay" by Rihanna. 
Source: Soundcloud