Fox News Just Tried To Shame Us Out of Wearing Leggings — By Asking a Bunch of Dads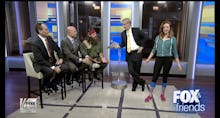 On Tuesday, the Fox News show Fox & Friends asked a panel of men whether a woman should be allowed to wear leggings. 
Scrunching your brow yet?
"Leggings ain't pants!" is how Fox & Friends host Steve Doocy eloquently opened the discussion, which was inspired by the recent viral video of a Tennessee woman ranting about how, well, "leggings ain't pants." 
To get their fatherly word in edgewise, Doocy invited a few roundtable members: Fox News analyst Arthur Aidala, Andrew Sansone, the husband of Fox News' Julie Banderas, and... wait for it... Duck Dynasty's Willie Robertson. 
Yeah.
According to Doocy, this "esteemed panel of fathers" were here to announce whether or not they would allow their daughters to wear leggings to school. 
Shockingly, Robertson seems the most cool with the idea, saying his daughters wear longer shirts to cover up the (and I quote) "lady parts." "But yeah, I think... I'm okay with it," he said. Phew. Dodged that one. 
Now onto Aidala, who says, "If it's not worn in the monastery, it's not worn out on the street." That sounds reasonable! 
As the final commenter, Sansone completely dodges the question, saying his daughters are still in diapers, so he'd rather not think of their future problematic fashion choices. God bless him. 
Then, much to our dismay, the show really gets cooking. A woman named Kaitlyn enters the set, and as the married men ogle her leggings, Robertson critiques the leggings saying that they're a thicker spandex, so they're fine. "It's not so tight that you can see a tattoo on her leg," Aidala said on the show (a relevant factor, apparently, based on the original viral video).
Another woman, Amanda, comes in wearing basic athletic wear — leggings and a jacket. She's all in the clear, because her outfit is primarily black. But then Paige comes in.
Paige is blonde. Paige has a lovely figure. Paige is in trouble. 
She's dared to wear a tank top and a pair of leggings, and the show (literally) plays what sounds like an audio track of an audience cheering. 
"Obviously her physique, God bless you, you've worked out, you've earned that," Aidala said. "And there are appropriate places to wear that. But I wouldn't wear that to church on Sunday."
Great. So glad we settled what women should and should not be permitted to wear, with the leading fashion experts of our great nation: a bunch of dudes who happen to have female family members. 
Luckily, the women subjected to the literal male gaze on Fox had a moment to speak up for themselves:
Still don't believe that this happened in 2015? Feel free to watch and steam over the full segment here. 
h/t MediaMatters