These Fashion Bloggers Are Flipping the Script on What It Means to Be "Modest"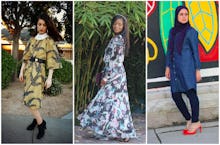 In September, H&M debuted new ads starring an undeniably chic woman, who just happened to be wearing a hijab. It was noteworthy, and yet not revolutionary: In June, another major retailer, Uniqlo, debuted an entire line of modest clothing, which included a selection of hijabs. 
It's something to celebrate, given that just two years ago, Abercrombie fired an employee over her hijab. 
Modesty, religiously motivated and otherwise, is now in style, from maxi skirts to long-sleeve blouses to oversized coats. Dressing modestly is not only accepted, but cool — and it's in no small part thanks to the determined women who've been blogging about modest fashion for years, waiting on the retail world to come around. 
Mic talked with seven modest fashion bloggers from across the country to discover how these women have quietly refined modesty in a way even H&M and Uniqlo can understand.
They've proven that modest doesn't mean frumpy.
"Being in Utah, we used to have a reputation," Sarah McCammon, the founder of the blog Wearing It On My Sleeves, told Mic. "I went to Brigham Young University, and we used to have this reputation of being frumpy clothes wearers. But now, the women around me are seeing these opportunities. It's like, 'Oh, we can be really fun and pretty and cool.'" 
McCammon, who is a member of the Church of Latter-Day Saints, started blogging when she was just 20 years old, so naturally, she wanted to dress in a trendier, hipper fashion. She launched her blog in 2009 as a way to celebrate modest fashion that was young, fun and relatable for other young women like her. 
The same goes for New York City native Malky Weichbrod, an Orthodox Jewish blogger who founded My Therapist Told Me to Write a Fashion Blog in 2010. Weichbrod, who considers vintage her strong suit, grew up going to fairly conservative schools in New York City, where she was "this little schnooky kid in these schlumpy uniforms." 
But she found her fashion calling once she entered a more relaxed high school. "I wore flowers in my hair and striped stockings," she said. "I was going for the Tavi Gevinson granny chic thing." 
For inspirations for stylish modest women who aren't frumpy, she's gone for a tailored, sophisticated, "smart girl" look, citing Jacqueline Kennedy Onassis as a style icon.
"In a way, it's this geeky chic thing, but I kinda like that," Weichbrod said. "I can be a nerdy, smart girl and I can still be cool, and I don't care that I'm not Kim Kardashian. It's about playfulness, and I'm not getting dressed to ooze this thing that I'm not." 
They're helping other modest girls out there figure out their style.
Finding a personal style was also elemental to Ikhlas Hussain, whose blog The Muslim Girl was created after a conversation in 2014 with her friend on the New York City subway about young women and modest fashion.
"We were talking about how, even though hijabi fashion and modest fashion has become more mainstream recently, there is still a lot of room for it to grow more," Hussain told Mic. "That got us talking about me starting a blog that would cater to the needs of young Muslim girls and give them tips and tricks on how to live life both modestly and beautifully, without compromising on their faith."
Those tips and tricks are key, particularly since everyone's own modesty standards vary.
"I think the general challenge is that when I find items that are close to what I need but not quite," Miss Mellalina founder Yonit Willis told Mic. "Whether it's a skirt that's not quite long enough or a top that's too short. Just being short of my own guidelines is tough." 
Willis, an Orthodox Jew, started her blog on Facebook in 2011 at age 18 as a way to inspire young women in the community and beyond. That desire to provide examples and help others is one thing that unites these bloggers. 
"I loved dressing up as a kid, but my love for fashion and style sort of diminished in the first few years of wearing hijab," Hussain said. "I started in high school, and I struggled with how to wear hijab and dress in a way that felt good. That all changed in university, when I was exposed to different people and many different styles. That's when I was able to see hijab as being beautiful, and being able to be fashionable as well as modest. It blew me away."
They're destigmatizing the judgments that modest women face.
The goal for many of these women is to get images of themselves out there and de-stigmatize modest dressing, along with the hijab itself. Mariam Sobh, who created Hijabtrendz way back in 2007, told Mic that she entered the blogging world as a way to get her voice — and her image — out there for all to see, particularly employers. 
Shortly before she launched her blog, Sobh was interviewing for broadcast journalist positions, but kept finding herself rejected — in part because they couldn't recognize that a girl in a hijab is also modern, stylish and clued in to modernity. 
"At the time there were no options," she said. "At the time, a lot of people like myself couldn't find anything to wear. I would go to stores and nothing fit right and it was really frustrating. So I started writing about things I found that were modest-friendly."
She wrote original content about fashion, beauty and entertainment, interviewed her own sources and brought her own spin to lifestyle blogging. The blog took off and eventually helped land her a gig in radio, an industry she still works in, as an anchor and reporter for CBS affiliate WBBM News Radio in Chicago. 
They're actually wearing today's trendiest clothing.
After years of dressing on the outskirts, so to speak, modest fashion is now all over stores like H&M and Zara, allowing these bloggers to dress in today's biggest trends. Part of that is just a great coincidence, a natural shifting of the industry.
"I think we know fashion very much just comes full circle," Adi Heyman, the founder of Fabologie, told Mic. "I think people got a little tired of 'Skin is in.' You know, the age of the '90s. You had Britney Spears and the Glamazons. It was very Baywatch-y. I think designers got a little tired of it, so European fashion got on board years ago and now it's trickled down to the H&Ms and even Forever 21s." 
Heyman, who converted to Judaism at age 13, launched her blog on Facebook in 2010, which was met with an outpouring of support. Her goal since the start was to create a place women could go to see which designers are creating modest-friendly clothing and catch up on the latest trends. Now, that's easier than ever.
"I've seen a huge shift," Heyman told Mic. "There's now a modest blogger for every day of the week, so they're seeing all these influences around them, and trends that they can actually participate in."
That might also be because it's a fun sartorial challenge. 
"I think it's exciting to see people being more imaginative," said Sobh of Hijabtrendz. "When there's less stuff showing, it not only leaves more to the imagination, it's like a blank canvas." 
They're an important reminder that modesty — and modest women — don't all fit one definition.
"I think the Internet and blogging and social media have given women who are dedicated to modest dress this massive platform to share their beliefs, and for people who share their appreciation for modest dress through their fashion dress," Elizabeth Roy, who identifies as a Christian and is the founder of Downtown Demure, told Mic.
At a glance, these women may seem worlds apart. But as far as what modesty means to these women, they all concur: There isn't one definition or set of rules.
"I do my best to follow the guidelines, but I'm not always 100%," Sobh said. "I know some of my pants or tops can be a bit tight. But I'm a work in progress and I believe God knows what's in our hearts. And at the end of the day, being a loving and peaceful person contributing positively to the world is more important."
Someone's own personal view of modesty can also change over time. 
"It's a definition that evolves — like you," Hussain of The Muslim Girl said. "I used to have no problems with three-quarter sleeves before; it didn't really challenge my understanding of modesty. But as I grew as a person and began to think about it, I realized they weren't okay [in my understanding]."
"I used to have very technical definitions for modesty," Roy of Downtown Demure said. "I used to think skirts should be at the bottom of my knee. But after studying the Bible, I realized there isn't any in the Bible that explicitly says anything about modest dress. So my rule now is nothing too tight, too revealing or too flashy." 
The most important thing is that the mainstream retail world makes space for all these definitions. 
"There was a time when you walk out in a midi, pleated skirt and a sweater, and it was very much the alternative," said Weichbrod of My Therapist Told Me to Write a Fashion Blog. "It was very much either super indie or super religious, but it's not like that anymore. You can be completely covered up and look just as glamorous as anyone else."