Meet the Entrepreneur Who Created the Perfect Planner for Goal-Oriented, Organized People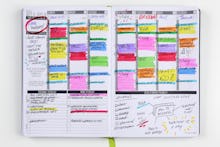 Angelia Trinidad has always kept track of her time very methodically. 
She remembers logging her daily tasks in 25-cent notebooks as a kid, jotting down her day's progression with list items like, "Wake up, brush teeth," followed by "eat breakfast, go to school, walk home." Her second-grade self would carve out time for a cartoon episode of Aladdin.
"I've always kind of been about managing time," Trinidad told Mic. "But it was never like a chore. It was more about creating clarity of how my day was going to go."
Trinidad took that obsession and channeled it in the most seemingly simple and obvious way: She founded a company to make planners, called Passion Planner. And amazingly, her product is riding a wave of enthusiasm for old-school, pen-and-paper planning in our digital age — and Trinidad is seeing major success. 
A paper planner for a digital age: Trinidad isn't alone in her earnest, clear-eyed love for organizing time. In fact, she's part of a bigger community fixated on planning out the days using print calendars and notebooks. The #PlannerAddict community obsesses over organizers and accessories like stationary and stickers. On YouTube, simply watching people organize their planners is a Thing. 
Amid this pretty planner craze, Passion is on the more practical side than the decorative. That hasn't hurt sales; on the contrary, Trinidad's company, which turned two years old this October with the help of a Kickstarter boost last November, is booming. The company now has 25 full-time employees and recently instituted a "Get One, Give One" model, in which every $29.99 planner purchase helps buy one for someone via nonprofit or school.
Unlike other planners, there's a special appeal to the Passion Planner that earned it the devotion of 23,626 Kickstarter backers. The planner has your typical weekly and monthly views for appointments, broken down in 30-minute increments. The difference is it's also designed with space for short and long-term goals, broken into actionable lists that are easy to check off. The pages include inspirational quotes and space for reflection (or doodling). 
The idea is to keep your bigger goals, not just the day-to-day minutia, at the forefront.
"I'm obsessed with efficiency," Trinidad told Mic. The point of being efficient, she said, should be with your higher goals in mind. "I think this planner asks you, 'What do you want to get to, really?'"
Making sense of chaos: If "Passion Planner" sounds anything like a combination of a planner and a self-help book, full of "you can do it" mantras, that's because it is. In fact, the concept for the planner came about after a particularly difficult year for Trinidad. 
A first-generation Filipino and the first in her family to attend college in the U.S., Trinidad entered University of California, Los Angeles, with the intent to eventually go to medical school. Two years in she rerouted her path to be a sculpture major, a risk she hid from her parents and applied for scholarships to cover.
When she did graduate from UCLA, Trinidad found herself asking the question so many post-grads often confront: "What's next?" Her diverse academic background actually ended up being a boon.
"If there's one thing that art school taught me, it's how to exercise taking an idea and making it a reality in a short amount of time — and being creative enough to make that happen," she said. "Because a lot of people have ideas, but they are too scared to make it happen."
Graduating without a plan forced Trinidad to get creative and turn her passion, literally, into a career, as so many young entrepreneurs are doing. The Passion Planner reflects her personality — creative with a heaping dose of Type-A — and also can help keep other budding young entrepreneurs on track.
"You need to realize, at least on paper, that your life is actually moving," she said. 
Even in an era of Google Cal and iPhone scheduling, it's a message that apparently still resonates. Passion Planner just launched its fourth Kickstarter — and passed $340,000 in less than two weeks.