16 Eye-Opening Photos Show What It's Like Going Back to School in Palestine and Israel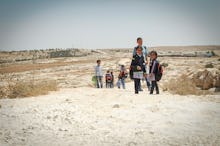 As protests rage across the West Bank this week, tensions between Israeli forces and residents of occupied Palestine are higher than they've been in months.
In the midst of this, however, local schoolchildren go about their day-to-day routine. It's the closest thing to normality in a situation that, for some observers, would seem anything but.
More than a year has passed since the 50-day war that claimed thousands of lives last summer, but its reverberations are still being felt across the region.
This is especially pronounced for some: According to testimony, video and photographs collected by local journalists over the past three months, Palestinian children also face significant barriers to navigating the area's perilous education system.
From military checkpoints, physical searches and alleged harassment by Israeli soldiers, to the omnipresent threat of violence that defines both sides of a persistent geopolitical conflict, life for a Palestinian student is fraught with challenges.
UNICEF data reveals that young people in Palestine boast literacy rates just shy of 100%. Yet drop-offs year-over-year in school attendance illustrate how hard it is to maintain an educational trajectory — a fact fueled by the tenuous nature of life under occupation.
All of this is apparent in a photo series compiled by the Institute for Middle East Understanding, a nonprofit organization that partners with journalists to increase global understanding of Palestine. It features images from three regions: Gaza, Susiya in the West Bank and East Jerusalem.
Mic interviewed the photographers responsible for the images. Vivien Sansour, the journalist who took the photos in Susiya, a small village in the West Bank whose residents have faced multiple forced displacements through Israeli authorities, said she was inspired by the perseverance of the people there.
"Palestinian children, especially in a place like Susiya, don't enjoy the most basic right or need any child or student should have: the feeling of safety," Sansour told Mic via email. "When I myself was growing up we often were harassed by soldiers going to school. Fear of being stopped as a young girl because you have a Palestinian history book in your hand (which back then was illegal) or of the army throwing tear gas into your school — which often left us helpless and terrified — and the fear you constantly have of losing your dear friends.
"Instead of learning about science and having energy to focus on growing in what we learn, students spend a lot of energy and mental power either trying to manage the roads to get to school or the unpredictability of tomorrow," she added.
This dynamic is apparent across the region. Majd Ghaith, who photographed the students in East Jerusalem, told Mic via email that he grew up navigating much of the same terrain as the children there today. "I feel every word of what the kids explained," he said.
He said the dangers and difficulties of getting to school also take a toll on the parents. "The first day of school ... [around] the world is a very nice day — the parents are happy for their kids, and the kids are very happy that they will see their friends there again," he said. "But here, it is different. The parents are afraid for their kids ... thinking how many checkpoints will stop them, how many settlers will attack them on the way, if they will be on time to school or the occupation will close roads, if the soldiers will throw sounds bombs or tear gas on their kids.
"I just want to let all the people to know that the kids of Palestine and East Jerusalem especially don't live the childhood as all the world do."
Jehad Seftawi said the same is true in Gaza. He remembers watching Israeli airstrikes devastate the nearby Shujaiyeh neighborhood from his eight-story apartment, where he had set up a camera to live stream the attack. 
"These two schools — the Subhi Abu Karsh and Beit Dajan elementary schools — were affected directly by last summer's attack," he told Mic. "There are a lot of children who had to evacuate the neighborhoods ... they took the basic, simple things in every house. People fled. Life stopped.
"Now it has been almost a year and conditions are still really difficult... Many [children] are happy to return, but others feel scared when they go to school. They have bad memories in that neighborhood ... You can see that they are traumatized, but they have a lot of energy. That's what shocked me.
"One thing I want people to learn from these photos," Seftawi said, "is that any place in the world where adults are fighting and making decision of wars, clashing, fighting — in the same place, there are children living, having hope for a good future. There are families looking to feed their children and just looking to have human rights, looking for life."
With these photos, viewers are left with this sobering portrait of life under the perpetual threat of war in Palestine and Israel — and the continued hope for peace that comes with it.