JK Rowling Just Used Dumbledore to Explain Why She Opposes the Israel Boycott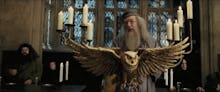 In a TwitLong posted Tuesday, J.K. Rowling used her character Albus Dumbledore to expound on why she cosigned an open letter published in the Guardian on Oct. 22, which called to hold off on a proposed cultural boycott of Israel by prominent artists in the United Kingdom.
"Dumbledore is an academic and he believes that certain channels of communication should always remain open," Rowling wrote. "It was true in the Potter books and it is true in life that talking will not change willfully closed minds. However, the course of my fictional war was forever changed when [Severus] Snape chose to abandon the course on which he was set, and Dumbledore helped him do it."
In her Guardian letter, Rowling used the same argument to explain why she could not support the cultural boycott, saying that suppressing dialogue would hinder compassion and lead to harmful repercussions.
"We will be seeking to inform and encourage dialogue about Israel and the Palestinians in the wider cultural and creative community," Rowling wrote, in conjunction with dozens of other British artists and public figures. "While we may not all share the same views on the policies of the Israeli government, we all share a desire for peaceful coexistence."
"Cultural boycotts singling out Israel are divisive and discriminatory, and will not further peace. Open dialogue and interaction promote greater understanding and mutual acceptance, and it is through such understanding and acceptance that movement can be made towards a resolution of the conflict."
Rowling published her first TwitLong on the subject Monday. "I have deplored most of Mr. [Israeli Prime Minister Benjamin] Netanyahu's actions in office," she wrote. "However, I do not believe that a cultural boycott will force Mr. Netanyahu from power, nor have I ever heard of a cultural boycott ending a bloody and prolonged conflict."
Rowling argued the importance of art in fostering links with disparate peoples and bridging ideological chasms. 
"The true human cost of the Palestinian conflict was seared upon my consciousness, as upon many others', by the heart-splitting poetry of Mahmoud Darwish," she noted in her initial TwitLong. "In its highest incarnation, as exemplified by Darwish, art civilizes, challenges and reminds us of our common humanity."
If any Israelis will suffer, Rowling continued, it will be "ordinary" ones, some of whom are themselves against their administration's approach to the Palestinian conflict.
Then, on Tuesday, Rowling took her musings to a whole new level. Because what better mirrors the Middle Eastern conflict than the conflict between Snape and Dumbledore?
In Tuesday's TwitLong, "Why Dumbledore Went to the Hilltop," Rowling called Dumbledore "the moral heart of the [Harry Potter] books," making his story an apt parable for how best to approach the Israeli-Palestinian conflict.
"Many of the messages I've received in the last few days have included variations on the theme 'talking wouldn't stop the Wizarding War' and as far as that goes, it's true," Rowling wrote. "Talking alone would not have stopped the Wizarding War and talking alone didn't."
However, Dumbledore responds to Snape's summoning him because Dumbledore chose not to shut the enemy out entirely and refuse to respond to their calls, she continues: "I think readers assume that Dumbledore is wise enough, knowledgeable enough and compassionate enough to sense that Snape, though he has led a despicable adult life, has something human left inside him, something that can be redeemed."
Rowling drew much criticism for her stance, including one open letter from a self-described "Palestinian Potterhead" named Mia Oudeh. In her viral Facebook post, Oudeh draws parallels between Potter and the Israeli-Palestinian conflict to argue that Rowling's statements were more harmful than helpful. 
"When the Death Eaters take over the Ministry of Magic and begin to run the magical world, would you have placed them in an equal side to the Potter trio?" Oudeh asked.
"How can we, as Palestinians, sit and conduct peaceful dialogue with Israelis, as equal sides, both to blame for a 'conflict,' when there is also an uneven distribution of power?" she wrote. "Israel has the fourth largest army in the world and receives $10.2 million in military aid daily from the U.S.. Palestine has no army and receives no money for military aid."
Rowling said that art and literature help people recognize that shared humanity and build bridges, but Oudeh argued that Rowling was dangerously oversimplifying the problem. "How can we talk about cultural bridges when Israelis live in illegal settlements (under international law) with unlimited supplies of running water and electricity, whilst meters away, Palestinian villages have one of the worst droughts in the world?" 
Ironically, Rowling's advocacy for a new philosophical approach to Israel and Palestine's schism appears to have created a new divide. 
"I can only say that a full discussion of morality within the series is impossible without examining Dumbledore's actions, because he is the moral heart of the books," Rowling concluded in her last TwitLong post. "He did not consider all weapons equal and he was prepared, always, to go to the hilltop."
Correction: Oct. 28, 2015