Hip-Hop Pioneers Salt-N-Pepa Discuss the Ongoing Barriers Facing Women in Music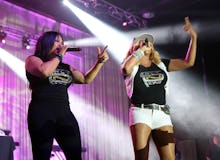 Next year, Cheryl "Salt" James and Sandra "Pepa" Denton will celebrate will celebrate three decades of pushing boundaries in the music business as rap's first all-female group, Salt-N-Pepa. Tuesday, the group kicked off their anniversary party right, sitting down with Billboard to talk about their legacy and how they would like to be remembered.
"[W]e pioneered and did this damn thing for women and music," Denton told Billboard. "Period. It can be done. Even in such a male-dominated world, when the odds are still against you, it can be done."
Added Salt, "Ditto that and also two more words: female empowerment."
Salt-N-Pepa broke onto the scene at a time when many in the music industry thought that hip-hop, especially female-led hip-hop, was a passing fad. Denton and James helped change that, with a string of massively successful singles. There was "Let's Talk About Sex," with its frank discussion of female sexuality, and "Expression," which encouraged listeners to express their individuality. 
They helped break down doors for women in hip-hop, but as the duo noted, there are unfortunately still not enough women getting through. 
"There was a time when we had a nice little run: Eve, Lil' Kim, Queen Latifah, Missy Elliott, Lauryn Hill, Remy Ma, Da Brat — it goes on," Denton told Billboard. "But what I noticed is that a lot of talented females in hip-hop came out of a male camp."
"Pep and I always discuss, 'Why aren't there more women?'" James told Billboard. "But it's true: Women are usually adopted and brought into the fold by a male camp. That's just the lay of the land. If there isn't a male stamp on somebody, basically the world, record companies, the establishment are not convinced."
A look down Denton's list shows it to be true. Eve had Dre and the Ruff Ryders camp; Lil Kim had Notorious B.I.G.; Lauryn Hill had the Fugees. "It's sad, but a reality," James told Billboard.
Yet succeeding is not impossible. The duo insists that despite these obstacle, it's possible for females to succeed in music. Salt-N-Pepa themselves are the example. Female performers just have to be willing to fight through the challenges that so many performers have described. 
"Pep and I feel that talent, perseverance, hard work and believing in what you do will always make the difference no matter what anyone thinks," James told Billboard. "That's the passion I felt: It was do this or die. I had no Plan B."
The celebration of Salt-N-Pepa's legacy will continue Wednesday night, when the group will appear during the American Society of Composers, Authors and Publishers' Women Behind the Music series in New York City.