DrunkMall Is the Drunk Online Shopping Site We've Been Waiting For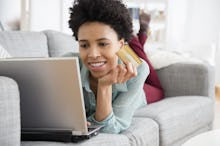 Ever stumbled home, just the slightest bit tipsy, grabbed your computer and thought, "Know what I need? A black-metal Bernie Sanders T-shirt"? 
Well, dear friend, you're in luck. 
In the same strange and fascinating vein as SkyMall, we present you with DrunkMall, an online catalogue of awesome things you can buy while participating in our national pastime: shopping on the Internet for things that speak to our inebriated little hearts.
Like a pair of "Thug Life" Tupac Shakur sweatpants, for instance:
As you can see in the above image, DrunkMall has made a concerted effort to caption all of its products (which link to sites like Amazon) with exactly what you want to read after drinking one too many of Nicki Minaj's Myx Moscatos. 
Other items the site has graciously aggregated include a near-genius breakfast sandwich machine:
A pillow with a little extra... something:
A miniature donut-making machine because, well, duh:
And a gigantic cutout of a Gigantosaurus because while you're drunk, why not initiate the first stage of "Scaring the living shit out of your roommate" with a cardboard dino?
Other brilliant items vary from the most obscure "saddest panda bear doll ever" to the obvious "pizza cone kit." 
"It was a pure 'Eureka!' moment out of nowhere, honestly," DrunkMall founder Tyler Mahan Coe told the Cut of his new site. "As soon as I realized it didn't already exist, I knew I had to create it, and people instantly loved it."
As far as what Coe considers to be an ideal drunk purchase, he has some guidelines. 
"What you want out of the ideal drunk purchase is two things," Coe told Mic via email. "There needs to be a period of doubt that begins the day after your drunk order. You think, 'Oh, maybe I shouldn't have bought that.' Or, 'There's no way it's actually going to be cool when it gets here.' Because that makes it so much better when a solid drunk purchase shows up and just destroys all of that doubt. So you want to choose something that's questionable but turns out to actually be hilarious or amazing."
"The American flag onesie is a great example," he continued. "You might order it for an Evel Knievel costume or something but then it shows up and it's more comfortable than anything you've ever worn."
"You want to choose something that's questionable but turns out to actually be hilarious or amazing."
Has Coe himself indulged in some inebriated retail therapy?
"After some thought, I'd have to say that purchasing 120 assorted fake mustaches [like these] was my worst drunk online purchase," Coe told Mic. "They turned out to not have as many brilliant or hilarious social applications as I imagined while placing the order. I even texted several of my friends at 2 am to let them know we would never have to worry again about not having a fake mustache on hand."
So far, Coe has been praised by Jackass numero uno Johnny Knoxville and the real SkyMall (which itself was recently rescued from bankruptcy), which makes pretty perfect sense. 
"I feel like DrunkMall exists in some middle ground between those two worlds, and having that approval feels great," Coe told the Cut. 
Indeed, and with the slogan "Take 2 aspirin and check your credit card statement in the morning," how could you go wrong? 
Oct. 28, 2015, 2:08 p.m.: This post has been updated to include quotes from Coe. 
h/t The Cut