R. Kelly "Switch Up" With Lil Wayne: Lyrics, Streaming Options and 'Buffet' Release Date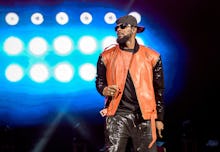 It's been two years since R. Kelly released an album, and it sounds like the 48-year-old artist wanted to switch things up with his upcoming release, The Buffet, due out Nov. 20. Fellow rappers Lil Wayne and Jeremih joined Kelly in his latest single, "Switch Up," which he dropped online Tuesday night.
The song is streaming for free via SoundCloud, featuring a heavy bass and some tight verses from the "Ignition" rapper. The artist tweeted the streaming link to fans, writing, "Guess I gotta hit ya with the 'Switch Up.'"
Source: Soundcloud
The lyrics focus on the performer's consistent love affairs with women, going from one to the next without giving his actions a second thought:
"Same shit, new day/ New bitch, new brain/ Got my cell twerkin'/ But I forgot their names/ Got a million dollars in the club/ So it ain't shit to throw it up/ But real talk, I'ma switch it quick/ If them bitches ain't tryna fuck."
While Rolling Stone notes R. Kelly's raps in "Switch Up" are fast and hard-hitting, his and Lil Wayne's verses are "equally goofy and grotesque."
Although Kelly's lyrics may be offensive to some, the artist told Entertainment Weekly in an August interview he was experimenting with different music for his upcoming album than his typical tracks. "I've always wanted to do different types of music and different characters, and this album gave me the chance to do that," Kelly told Entertainment Weekly. "I absolutely think that the audience is expecting the sexual R. Kelly, the steppin' R. Kelly, maybe a bit of the 'I Believe I Can Fly' R. Kelly. They've been spoiled for 20-something years. I don't want fans mad at me, so I gotta give them what they expect and what they want."
Listen to "Switch Up" on SoundCloud here.