This Halloween, Teal Is the New Orange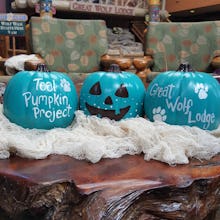 Peanuts, gluten, dairy. So delicious for many, so deadly for some. 
That's why the Food Allergy Research & Education (FARE) started the Teal Pumpkin Project, which is a way for households to signal they offer non-edible treats for trick-or-treaters with food allergies.
There are roughly 15 million Americans and 5.6 million children under the age of 18 with food allergies, according to FARE. The organization estimates that children's food allergies cost the economy almost $25 billion per year, making the pumpkin project, which encourages people to display teal-painted pumpkins to indicate allergy-free offerings, more than just a friendly gesture. 
Launched in 2014, the initiative has become so popular that Wal-Mart is selling pre-painted pumpkins. In its first year, there were participants in all 50 states and seven countries; so far, 100,000 people have already taken the teal pumpkin pledge for 2015.
"It made my night last year when a little boy and his dad came to our house — the little boy grabbed a couple of stickers and was so excited," Heather Krieger, a Pennsylvania mother of a 5-year-old boy with food allergies, told Today. 
"His dad explained the boy had food allergies and each year they ended up donating all of his candy. He went on to say how excited his son was to have something he could keep ... the look on the little boy's face was something I'll never forget."
To aid trick-or-treaters, the Teal Pumpkin Project has engineered a crowdsourced map of all the households that have pledged to participate.
For some parents the initiative has made a tremendous difference already. "When he was younger, we used to go around ahead of time to the houses he would trick or treat at," Josh Zimmerman, whose son has extreme food allergies, told local television station KSWB. "He would knock and ask for safe treats that we would provide ahead of time.
"Trying to tell someone so young they can't go trick or treating when all their friends are doing it, it's just a killer. Have that nice little teal pumpkin out or a poster letting you know it's safe, terrific."