These Photos of World Leaders With Man Buns Are Haunting Our Dreams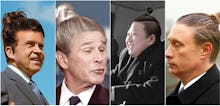 Have we reached peak man bun? Are they the trendiest style around or already woefully uncool? Are they the worst iteration of hipsterdom this century has yet seen?
The answer to those burning questions is now here, in the form of a clever Photoshop project. When the leaders of the world, from Putin to the pope, are wearing man buns, you know we've reached peak.
DesignCrowd, an Australia-based online graphic design marketplace, issued a challenge to graphic designers online: "Photoshop Design Job: Give famous politicians man buns!"
The result was 101 submissions from 42 designers, many of which are so slick and life-like, you'd think the world's presidents and prime ministers had all gotten drunk together and stumbled into a Brooklyn hair salon, to emerge with perfectly tied topknots worthy of Instagram. 
Can you imagine? You don't need to. Here is...
President Barack Obama, who, with a top knot, looks eerily like Marc Jacobs.
Kim Jong Un, who doesn't look half-bad, no?
Bill Clinton, whose top knot would have probably looked better with his signature white hair.
Abraham Lincoln, who looks just a bit of out place in his 19th-century surroundings.
George W. Bush, who's gone with a #GrannyHair version.
Richard Nixon, who's doing the messy, second-day-hair look.
And the winner of the DesignCrowd contest, the one and the only Vladimir Putin.
One thing's for certain: These artists are fantastic at Photoshop. But we've learned another thing as well: We never want to see another man bun ever again. 
h/t Glamour Paris
Correction: Oct. 29, 2015
An earlier version of this article misidentified Richard Nixon as Ronald Reagan.