Khloé Kardashian Gives Update on Relationship With Lamar Odom, Status of Their Divorce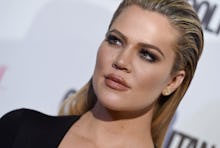 Reality star Khloé Kardashian may have paused her divorce with former NBA player Lamar Odom while staying by her estranged husband's hospital bedside, but that doesn't mean the two are anywhere near discussing their relationship. In an interview with People published this week, the 31-year-old explained there is much more that needs to happen before the two can begin to work on their marriage.
"It's out in the media that we are back together, but I wish people understood that's not in our thought process right now," Kardashian told People. "And also for medical reasons, it's just smarter that gets on hold for a minute. But that does not mean I'm back with Lamar. That's a whole other thing that only time will tell. I can't tell you what tomorrow brings."
Odom, a former Los Angeles Lakers player who won two NBA championships, was found unconscious in a Nevada brothel Oct. 13 after reportedly abusing multiple substances and was rushed to a nearby hospital. The 35-year-old was transferred to a Los Angeles hospital Oct. 19, where Kardashian has been staying by his side.
"I want to be his support system," Kardashian told People. "Tragedy does make you reassess a lot of things, but when it comes to our relationship, it's the same, except I'm here supporting him fully."
The reality star, who had a two-season show with Odom titled Khloé and Lamar on the E! network, used her website Oct. 20 to thank fans for their support and prayers for her husband. "The past week has been incredibly difficult," Kardashian wrote. "I am so thankful to family, friends and fans, who have sent nothing but prayers and well wishes to Lamar ... You can never be prepared for an experience like this, but without the outpouring of love and endless prayers that Lamar has received and the strength I was given from my loved ones, it would have been difficult to endure. Thank you for your continued support. God is great!!!"