Watch Full Live Online Coverage of 2015 CNBC Republican Debate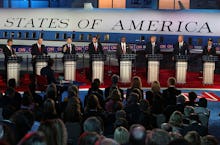 Voters will be tuning into Wednesday night's CNBC "Your Money, Your Vote" Republican presidential debate as GOP hopefuls gear up for a night of questions, arguing and the opportunity to gain support in the battle for the White House.
Audiences can tune into the debate live starting at 8 p.m. Eastern on Wednesday night on CNBC as well as online. The network will stream the two hour event live through its website, as well as on its subscription streaming service, CNBC Pro, which offers a free seven-day trial to new users. In order to access the live stream through CNBC, users will need to log in through their cable providers.
The debate is being hosted at the University of Colorado by CNBC anchors Carl Quintanilla, Becky Quick and the network's chief Washington correspondent, John Harwood. 
Some candidates have expressed their excitement for Wednesday night's debate, while GOP frontrunner business magnate Donald Trump lambasted the network for supposedly reporting false polling numbers: