In One Tweet, Gay Olympic Silver Medal Winner Gus Kentworthy Shuts Down a Bigoted Troll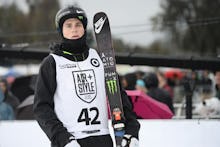 Earlier this week, 24-year-old Olympic skier and 2014 Winter Olympics silver medalist Gus Kenworthy came out as gay, posting a simple announcement to Twitter about his identity:
"Hiding everything away is so painful," Kenworthy told ESPN in a video titled "Olympic freeskier Gus Kenworthy's next bold move — coming out."
"You're constantly lying and constantly feeling like you're being deceitful," he says in the video. "I'm just at that point where I'm ready to open up and let everyone see me for me and I hope everyone accepts it."
Trolls, of course, promptly tried to ruin Kenworthy's big moment — but the freeskier wasn't having it, absolutely destroying a bigoted Twitter user who asked him whether he was "the man or the woman" in his relationships.
Kenworthy's right, of course: Same-sex relationships are not crude imitations of straight ones, and suggesting so is just a heterosexist way to devalue LGBTQ people and their lives. Fortunately, in the new and unprecedented era of support for LGBTQ rights in the U.S., the haters now find themselves on the wrong side of history.