Republicans Officially Nominate Paul Ryan to Be the Next Speaker of the House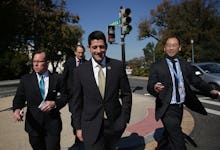 Outgoing House Speaker John Boehner can finally pack his bags. 
After weeks spent trying to find a replacement, the Republican conference in the House of Representatives voted on Wednesday to nominate Rep. Paul Ryan (Wisc.) to succeed Boehner, who on Sept. 25 announced plans to relinquish the speakership and retire from office. The Ohio congressman had been dogged by repeated attempts by conservative members of the House to block his agenda and, if given the chance, depose him on the floor.
Ryan was formally nominated by Rep. Trey Gowdy of South Carolina in a meeting of House Republicans Wednesday afternoon prior to a vote by the full caucus. Ryan received 200 votes from his colleagues, far outpacing Rep. Daniel Webster of Florida, who garnered 43 votes. Two other members — Majority Leader Kevin McCarthy of California and Rep. Marsha Blackburn of Tennessee  — received one vote each.
Formalities aside — the full House, including Democratic members, is scheduled to cast ballots on Thursday — Ryan is set to become third in line to the presidency and the most powerful Republican in the federal government. In winning the gavel, he will also be tasked with forging some kind of united front from a historically divided and fractious group of lawmakers.
A fighting chance: The forthcoming budget deal, agreed in principle by Boehner and the White House, will, despite Ryan's meek protests over the "process" that produced it, give the new speaker breathing room to lead future negotiations with Democratic leadership.
The pact will raise the debt ceiling and fund the government through the end of President Barack Obama's second term. Boehner has been hamstrung by a band of 40-odd conservative colleagues who have refused to consider any mention of negotiations with the White House and often threatened to move against leadership if it pursued one without their consent.
Ryan, who rose to national prominence when 2012 GOP presidential nominee Mitt Romney chose him as his running mate, has represented Wisconsin's 1st District on Capitol Hill since 1999. He has a reputation as a strict economic conservative. Still, Ryan is regarded as being more open than some of his notably strident colleagues to seeking out common ground with political opponents.
The road to "yes": To become speaker, Ryan will leave his seat on House Ways and Means Committee, where he serves as its chairman, a job widely considered as among the most powerful in Washington. 
The decision to leave that weighty post did not come easily. Ryan initially turned down party leaders who lobbied him to consider running for speaker after McCarthy, the early favorite, bowed out under pressure from hardliners (and moderates embarrassed by his admission that the select committee on Benghazi was set up to drag down Hillary Clinton's poll numbers).
But after doing the rounds and winning the support of the three most powerful caucuses, including the backing of the rebellious House Freedom Caucus, Ryan decided to accept what many still believe to be a poisoned chalice. His initial push to finesse House rules to make it more difficult for lawmakers to remove the speaker has largely failed. But he should be safe from internal threats at least through the next budget battle in March 2017. 
For the Republican party, especially its eventual presidential nominee, this is very good news. The tumult in the House will soon fade into the background as the specter of another government shutdown or sovereign debt default come off the table, allowing the party to focus on selling itself to general election voters.