Deputy Ben Fields, Officer Videotaped Manhandling Spring Valley HS Student, Has Been Fired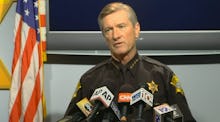 Richland County Sheriff's Deputy Ben Fields, the police officer recently captured on video violently arresting a black female student at Spring Valley High School in Columbia, South Carolina, has been fired.
In a press conference on Wednesday, Sheriff Leon Lott told media while the student in the video was not blameless, he has "terminated" Fields and requested the FBI and Department of Justice's Civil Rights Division to investigate the incident.
Sheriff Lott told assembled media the girl "started this incident with her actions," and that students are "supposed to be there to learn ... their education was put on hold" due to her behavior.
He also said "the teacher and school nurse ... both fully support the actions of Ben Fields," adding neither individual believed Fields used excessive force.
The sheriff cited a third video demonstrating the student was resisting arrest. 
"Once he put his hands on her — he was allowed to do that — he attempted to use force, to make arrests," Lott said, but added, "I do not feel that the proper procedures were used at this point."
Lott said he did not believe Fields' use of force was acceptable or followed the standards of his department.
"That's what caused me to be upset when I first saw that video and it's why I continue to be upset when I see that video," he said.
"What she did doesn't justify what that deputy did," Lott said. He added, "I'll tell you what he should not have done: He should not have thrown the student. When he threw her across the room, he lost control of her. That's not acceptable ... she wasn't a danger at that point."