Snapchat's Latest Update Adds Video Filter. Here's How to Use It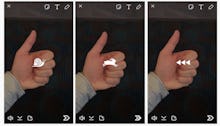 Snapchat unveiled a new update Wednesday with a set of new filter options for videos recorded on the app. The feature allows users to speed up, slow down and rewind their snaps before adding them to their stories or sending them along to others. Before Wednesday, Snapchat's 10 second videos could only play at normal speed, as well as manipulate a user's face with different themes, from puking rainbows to an older version of the user with a monocle over one eye. 
Mic is on Snapchat. You can add Mic to your contacts by using the snap code below or by adding the username "MicDotCom."
Here's how Snapchat's latest video update works:
1. Record a video on Snapchat by holding the button that appears on the screen after opening the app. Videos can last a maximum of ten seconds.
2. Hold down on the screen with one finger while swiping through filter options with another. Small images will flash across the screen of a snail, a bunny and a rewind symbol when a user has reached the new filter options. 
3. Choose which option is preferred for the recorded video, and watch the creation playback to make sure the editing was correct.
4. There you have it! You're already on your way to becoming the next Snapchat superstar.
Slow down video for a lasting impression on a moving selfie:
Speed it up to capture the feeling of rocking out while in the office:
Rewind videos to increase the drama or artistry in a recording:
Users can check out the latest filters by updating the app through their device's app store: