A Woman Wrote About a Weekend Filled With Sex and Guns — And the Internet Is Freaking Out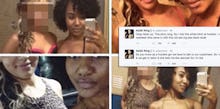 If you've encountered any other humans today, there's no doubt you've heard the name "Zola" or at least heard something about the most incredible story ever told through a series of nearly 150 tweets. 
A woman named Aziah King, or @_zolarmoon on Twitter (who goes by Zola), told an epic story that began at a Hooters, where she worked. 
One day, she met a white girl named Jess. As it turned out, they were both strippers, according to her (yet-to-be-verified) story. It was only a matter of time when Jess invited King to Florida for a "hoe-trip." 
Her trip to pick up a few hours at a strip club with a ragtag group of new friends turned into: 
An adventure of prostitution... 
Pimping... 
Lies... 
Kidnapping... 
And attempted suicide.
It's a story she's told before, according to her followers.
People can't get enough of Zola's incredible tale (whether it's true or not). The Internet is demanding a novelization and a film adaptation. Some of the casting recommendations are superb.
Zola has pulled the tweets, but her account remains on Storify and Imgur — and get ready to fire up that screenplay software.