7 Female Producers Dismantling the Stereotypes About Women in Music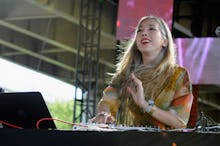 Nothing about beat designates sex or gender. Beats don't discriminate. Beat-making, on the other hand, has historically been a boys' club. The interaction between performer and beat has mostly played out in one highly gendered arrangement: male producer, female performer. 
In 2010, according to most estimates, women account for less than 5% of producers and engineers, as reported by the Nashville Scene. That percentage seems to have grown to a little under 10% according to a 2014 report from the Department of Labor. On the upper echelons, no woman has ever won a Grammy for producer of the year for a non-classical piece.
Several artists have begun to speak against this inequality, pointing out all the forms of misogyny that discourage women from entering and succeeding in the field.
None are more visible than electro-pop visionary Grimes. 
She spoke about it recently with both Fader and the New Yorker in profiles promoting her upcoming album Art Angels. On said record, Grimes reportedly produced and wrote every track. The visibility she's been giving her cause to prove "women can do technical work," as she told Fader, seems to be causing her respect within the production community to grow. Tuesday, she shared a snapshot of her cover story in Future Music Magazine where she got the opportunity to nerd out about PMC monitors and her binaural microphones.
Too few women get this chance.
Numerous are artists working to break down these plexiglass gobo ceilings and create equal opportunity for women on both sides of the microphone cable. These are just seven of the most promising.
1. TOKiMONSTA
In 2010, TOKiMONSTA became the first female artist to join Flying Lotus' lauded Brainfeeder label. She's only grown as an artist and an businesswoman since then. Her lithe, textural electronic beats have found a new home on her own label Art People, which she created "as a means to raise up other artists," she told Vice's I-D in May. "It's not a money-grab venture, but a way to give shine to people I believe in." 
One of the first was singer Gavin Turek with whom she wrote and recorded the mini-LP You're Invited. The beats and voice round each other out seamlessly.
2. WondaGurl
At 19 years old, Ebony "WondaGurl" Oshunrinde has already racked up a list of credits that would make even the most well-established producers salivate. She got her break producing the beat for "Crown" off Jay Z's 2013 Magna Carta Holy Grail. She continued to hone her craft after she finished her homework, as she told the Hollywood Reporter. 
This year, she produced the beat to Drake's "Used To" and Travis Scott's "Antidote." Her sound is one listeners will undoubtedly be hearing a lot more in hip-hop to come.
3. Fatima Al Qadiri
Fatima Al Qadiri grew up in war-torn Kuwait during the First Gulf War. Video games and music became her escape, and she now translates the "apocalyptic" sounds that filled her childhood, as she described them to the Guardian, into lo-fi grime. She composes solo and operates as one part of the Future Brown, which also features female producer Asma Maroof, Los Angeles-based Daniel Pineda and leader of New York City's Lit City Trax label J-Cush.
Source: Soundcloud
4. Crystal Caines
Rapper-producer Crystal Caines broke onto the scene helping crafting the sound of A$AP Ferg's early hits. It was a reverse of the traditional sexualized roles in music — female singer out in front, male producer working the technical aspects behind the scenes. 
She's now working on her own forthcoming EP Vertigo, which will feature her on the vocals and the boards. In February, she released five tracks that give fans an idea of what the EP will sound like, featuring production from fellow female producers TrakGirl and WondaGurl.
5. Cooly G
Another beat-making prodigy, Cooly G got her start producing tracks in her father's study when she was just 7 years old. At 17, she got a job as a music production teacher, teaching production to men three times her age. She's now signed to the U.K. label Hyperdub and, despite her powerful presence in the scene, some people still can't look past the shock that she's a girl making beats. 
"Some people go, 'You're a girl; you can't make beats!'" she told the Independent. "Or, 'Maybe your boyfriend makes them for you?' They don't believe it." One listen through her heavily polyrhythmic, September-released Armz House EP, however, would make anyone a believer.
6. Shura
In today's highly technological music-making environment, music production is no longer the past time of the elite or those with convenient or coincidental access to professional studio time. Anyone with a computer and an Internet connection can teach themselves to make beats. 
That's exactly what British-Russian singer-songwriter and producer Shura did, using a series of YouTube tutorial videos to teach herself to use the production software Ableton while she worked the night shift as a video editor. Her heavily disco-influenced, breathy R&B has been turning heads ever since, with her most recent White Light dropping in July.
7. Ronika
Up-and-coming producer-performer Ronika's Selectadisc — a sprightly, highly personal album — is a standout in the currently highly saturated synth-pop genre. Nonetheless, Ronika has said she's constantly encouraged by concerned executives to hop in the studio with someone (read: a man) who "knows what they're doing." 
"I even had somebody say to me, 'You don't want to be worrying about EQ-ing a snare drum,'" she told the Independent. Yet she lets her credentials speak for themselves. "In actual fact, I have a science degree in audio technology and acoustics, so EQ-ing a snare drum is what I am qualified to do!'"