How Ruth Bader Ginsburg Became an Icon for Young Feminists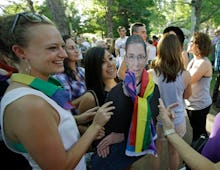 The pages of the recently published Notorious RBG: The Life and Times of Ruth Bader Ginsburg are riddled with fascinating revelations about the beloved and, yes, notorious U.S. Supreme Court justice. From the valuable model of work-life balance her stunningly nontraditional, almost 60-year long marriage provides to the incredible work she did as co-founder of the Women's Rights Project at the American Civil Liberties Union before she even made it to the bench, the book eloquently and thoroughly demonstrates once and for all that RBG backs her whip smart, often snarky one-liners with a substantive feminist legacy.
Perhaps the most fascinating aspect of the book, however, is found by taking a step back and considering how it came to be. Many are familiar with the Notorious RBG Tumblr — which was founded by the book's co-author Shana Knizhnik in 2013 following the justice's much-celebrated dissent to the court's attempt to strike down parts of the Voting Rights Act — that inspired the book. The tongue-in-cheek Tumblr name, authors Knizhnik and Irin Carmon note in the book, references the deceased rapper Notorious B.I.G., who although dissimilarly was a nearly 400-pound black man, was, like Ginsburg, from Brooklyn and "could also pack a verbal punch." 
But what, exactly, spurred the Tumblr's virality — including offshoots like apparel, halloween costumes and tattoos, both real and fake — especially among millennials (or "#millennials" as the authors refer to themselves)? Carmon and Knizhnik sat down with with Mic after a recent panel at Barnard College to offer some insight.
Older observers seem quite baffled as to how an octogenarian Supreme Court justice with a storied legacy attracted the attention and admiration of her grandchildren's generation, who are supposed to be self-centered and future-oriented. But the relationship is hardly as contradictory as is often presented. In fact, the authors told Mic, it makes perfect sense considering Ginsburg's politics have always been prescient: She has advocated and modeled solutions to plenty of "trending" feminist issues. 
Shaking things up for decades: One needs to look no further than Ginsburg's incredible career.
The term "intersectionality" may have gained traction in the mainstream movement in recent years, but Ginsburg has arguably taken an intersectional approach to her work for decades. She has long viewed the fight for gender equality as not just the pursuit of women's liberation, but liberation for all, a value she enacted on levels personal and broadly political.
For example, Ginsburg allowed one of her male clerks, a father, to work flexible hours and employed the unique strategy of using male plaintiffs in sex discrimination cases to prove such treatment harms everyone, the authors told Mic. Ginsburg also ruled against racist policies — perhaps most notably in her pointed dissent in the case challenging the Voting Rights Act — and has acknowledged the ways in which classism complicate other issues, like abortion access.
Though Ginsburg faced criticism while doing this work decades ago, Carmon said, she was ultimately always "trying to say there's room for lots of different approaches," and failed to understand why others felt "the impulse to denigrate other people's feminisms." 
But Ginsburg's value as a role model is not only found in her work but in her persona as well. Take the current debate surrounding how women can succeed. Women are frequently blamed for their own lack of power — either due to failing to advocate for themselves or refusing to help other women — and still face a double standard that regards powerful women as "bitches." But Ginsburg models an attractive middle road.
Ginsburg made her power her own, rather than modeling it after patriarchal standards, by creating "this new vocabulary for women in power that doesn't exist," Knizhnik said. Celebrating a powerful woman who is also "traditionally feminine, who had a pretty conventional life in terms of having a husband and kids, but at the same time was fighting for these radical ideals just allows the conversation to broaden," she added.
And plenty of women can likely relate to confronting expectations based on their appearance alone. Although the justice has "a quiet voice, she's quite small, people describe her as frail," Carmon added, she defied preconceptions about her strength and "used her power very thoughtfully with a lot of principles but maintained the same unapologetic commitment to equality."
"Women are used to being underestimated the way that Justice Ginsburg has been underestimated her entire life," Carmon added. "They take strength from the fact that she has dealt with that and come out on top."
Yes, Ginsburg's relevance and resonance is presented in a stereotypically millennial-friendly format: Tumblr memes. While some critics, as Carmon noted, seem to believe that "because we really had fun with the meme, it's not a serious subject," that's not the case. Just because the medium of expression is playful hardly means the message this project seeks to impart is too.
"It's very much something of our generation to popularize our politics in this particular way," Carmon said of the meme medium. "These are substantive issues that we should all be engaging in and it's happening – it's just happening in a kind of artistic, shared vernacular of social media."
Beyond generating a unique way for young people to invest in and proliferate important issues, this medium can also be seen as a truly progressive step in how feminism is practically enacted online. The predominant response of online feminists to issues (like the ones raised though the Notorious RBG Tumblr) once took the form of a "cycle of outrage," Knizhnik said. While anger is certainly a justifiable response to serious issues like various forms of discrimination, this means of expressing it frequently created an "inability or reluctance to see where anyone else is coming from," she added.
The meme format, however, proves there need not be a choice between "being a feminist and also being irreverent" and ultimately serves to "combat that, to try to meet people halfway, to bring people along with you, as RGB would say," Knizhnik said.
In fact, that young feminists are so taken with and inspired by Ginsburg is perhaps evidence of her incredible story coming full circle: Ginsburg herself was initially radicalized by her own students at Rutgers University, where she taught law in the 1960s, the authors noted. 
As Carmon put it, RBG lived "in this kind of intergenerational spirit." No matter how or why they are doing so, that young feminists are engaging with this living legend is as encouraging a sign as any that the decades the justice spent ensuring future generations a life free from inequality won't retire when (or if) she does.