Anonymous Plans to Reveal Names of Up to 1,000 Ku Klux Klan Members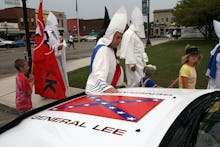 Anonymous, the infamous group of activist hackers that's hacked the Islamic State group and the CIA, announced Thursday on Twitter that it had accessed an official Ku Klux Klan Twitter account — and plans to reveal the names of up to 1,000 Klan members around the anniversary of the November 2014 Ferguson, Missouri, protests after the killing of unarmed teenager Michael Brown.
In a Tuesday press release, Anonymous announced, "We will release, to the global public, the identities of up to 1000 Klan members, Ghoul Squad affiliates and other close associates of various factions of the Ku Klux Klan across the Unites States."
The anticipated reveal is part of "Operation KKK," an initiative Anonymous launched in November of 2014 after a Missouri chapter of the KKK allegedly threatened to use lethal force against Ferguson protestors for "harming the community," the group wrote in a flier that issued the threat.
 "You've awakened the sleeping giant," the flier warned Ferguson protestors. Anonymous claimed to have gained access to Ku Klux Klan servers within a couple days of launching the operation in November of 2014. 
 Anonymous recalled the Ku Klux Klan's 2014 threat in Tuesday's press release. "You once told Anonymous that we awakened a sleeping giant within you," it read. "We are here to remind you once again — you summoned an unslayable dragon."
The press release also stressed that the attack against the KKK is a "cyberwar" and "not violent," justifying the hack by labeling the Ku Klux Klan "terrorists."
"You are more than a hate group," Anonymous said in the press release. "You operate much more like terrorists and you should be recognized as such."
The group tweeted that it will provide updates on the hack through two Twitter accounts set up for the initiative.
In January, a member of the white supremacist group, who chose the pseudonym Henry, told CNN that Klan members make an effort to protect their identities from the government, which joins Anonymous in categorizing them as terrorists. "Our government considers us domestic terrorists, they consider us right-wing extremists," Henry told CNN. "Because of that ... we wear the robe, the hood, to protect our identities and not to make us a bull's-eye or target from FBI."
The goal of Operation KKK, according to Tuesday's press release, is to target that anonymity. "We are not here to strip you of your Freedom of Speech," the group wrote. "Anonymous will never strip you of any of your Constitutional rights ... We are stripping you of your anonymity."