Yeezy Season 1 Collection: Images and Full List of Where to Buy Kanye West's Adidas Line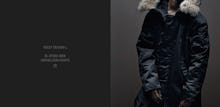 Yeezy Season is among us: Kanye West's first season from his fashion collaboration with Adidas hits stores worldwide beginning Thursday morning. The collection also includes West's massively successful line of shoes he designed with the clothing company, such as the Yeezy Boost 350 and Yeezy Boost 750. 
The artist and his wife, Kim Kardashian-West, have been teasing different looks from the highly anticipated clothing line, Yeezy Season 1, during several awards shows and red carpet events ever since it was first introduced during the 2015 New York Fashion Week. 
West also uploaded a silent documentary to his website, Yeezy.supply, on Wednesday that follows the design and production of his clothing line.
The collaboration will be available in Adidas retail locations nationwide and internationally. The 38-year-old rapper's designs combine high-fashion trends with urban streetwear, as the first season of the Yeezy line offers camouflage shirts, dark green sweaters that are torn throughout the arms and torso and black jackets with fur-laced hoods. 
Below are all of the retail locations that will be stocked with the new line, according to Complex:
Adidas Originals Flagship Stores
Adidas Originals Flagship Store — Milan, Italy
Asia – Pacific 
Boon the Shop Shinsegae Gangnam — Seoul, Korea
North America
A Ma Maniere — Atlanta, USA
Europe — Middle East
Due di Picche — Napoli, Italy
U.K. Harvey Nichols — Bristol, U.K.
Check out some of the highly anticipated releases from Yeezy Season 1 below: