2016 Republican Debate Live Stream and How to Watch Online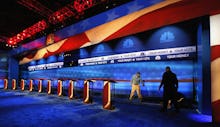 The third Republican presidential debate, hosted by CNBC, takes place Wednesday night at the University of Colorado in Boulder, Colorado. The top 10 candidates will take the stage at 8:00 p.m. Eastern at the Coors Event Center, preceded by a 6:00 p.m. EST debate among the four undercard candidates.
CNBC will stream the live debate here — but only for those with a cable subscription to the network. CNBC is not allowing any free legal streaming of the event. In response to queries about this decision from theObserver, the network's representative said, "CNBC is fully distributed," meaning virtually anyone with cable has access to it.
For those risk-takers who aren't cable subscribers, CNBC offers a 30-day free trial for an annual subscription. After 30 days, users will be charged $299.99 for the year.
The debate, dubbed "Your Money, Your Vote," will focus on key economic issues including "job growth, taxes, technology, retirement and the health of our national economy," according to CNBC's site. CNBC personalities Becky Quick, John Harwood and Carl Quintanilla, will moderate the event. 
The 8:00 p.m. Eastern debate will include front-runner and real estate developer Donald Trump alongside top challenger and former neurosurgeon Ben Carson, Florida Gov. Jeb Bush, Florida Sen. Marco Rubio, Texas Sen. Ted Cruz, former Arkansas Gov. Mike Huckabee, Kentucky Sen. Rand Paul, former Hewlett-Packard CEO Carly Fiorina, New Jersey Gov. Chris Christie, and Ohio Gov. John Kasich. 
The 6:00 p.m. debate will include lower-polling candidates Pennsylvania Sen. Rick Santorum, Louisiana Gov. Bobby Jindal, former New York Gov. George Pataki, and South Carolina Sen. Lindsey Graham.