Who Is Larry Kudlow? Here's What the CNBC Economist Thinks of Donald Trump's Tax Plan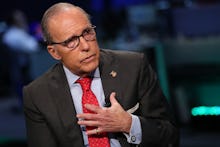 During Wednesday's Republican debate, in a response about his tax plan, front-runner and real estate developer Donald Trump said CNBC contributor and conservative economist Larry Kudlow supports it — and he does. 
Here's what Kudlow said: In September, Kudlow endorsed Trump's plan on Newsmax TV, which would make major income tax cuts for the wealthy and allow those in lowest income brackets to be exempt from paying them at all, saying it's a "pro-growth" plan. 
"I really like Trump's plan," Kudlow told The Steve Malzberg Show in an interview. "One of the things I just love about it is the 15 percent corporate tax rate."
"Remember, China's is 25, so if you want to beat China, lower the corporate tax rate — and that's just what Donald Trump has done," Kudlow told The Steve Malzberg Show. "And by the way, small businesses ... would pay the same low 15% rate. That's one of the key features."
Here's a little about Kudlow: Kudlow is currently a CNBC senior contributor, host of the nationally syndicated The Larry Kudlow Show and former host of his show The Kudlow Report, according to his website. 
He also founded his economic consulting firm, Kudlow & Company. 
During Ronald Reagan's presidency, Kudlow served as the associate director for economics and planning, according to his CNBC profile.